If you're new here, you will want to sign up for my newsletter to get FREE dating ebooks and mp3s along with exclusive seduction tips and videos. Thanks for visiting!
Was Jimmy Fallon a pickup artist before he was married? Was he a womanizer and smooth with the ladies like his buddy Justin Timberlake?
Nicole Kidman might have given us a hint to the truth when she recently appeared on The Tonight Show. She described her previous "encounter" with host Jimmy Fallon during his earlier Saturday Night Live days.
Apparently, she thought he was cute and was interested in possibly dating him. (I think she really wanted to fuck him.)
A mutual friend took her to his place, and guess what happened. Did Jimmy seduce Nicole? She wanted him, and was putting it on the table for him. Did he FUCK her brains out?
I think this picture spoils the answer.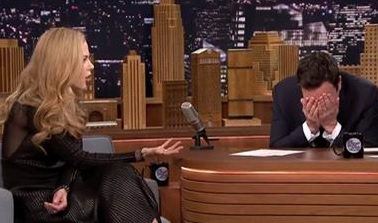 NO! According to her, he seemed uptight, evasive and uninterested. In fact, he ignored her and started playing video games. She became bored and left thinking that he was possibly gay.
…continue reading "Did Jimmy Fallon FUCK Nicole Kidman? (The Answer Will SHOCK You!)" »