If you're new here, you will want to sign up for my newsletter to get FREE dating ebooks and mp3s along with exclusive seduction tips and videos. Thanks for visiting!
Martha Stewart did a Reddit AMA (Ask Me Anything).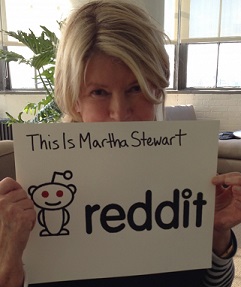 One person asked her for some sex advice.
Here's the exchange:
Do you have any good sex tips?
MARTHA: Always take a bath before and after.
Do it DURING a bath. Kills two birds with one stone.
MARTHA: That's good too, and don't forget to brush your teeth.
That's it? Take a bath and brush your teeth?
…continue reading "Martha Stewart's Sex Tips from Reddit AMA" »
Do you know how to start a conversation with a random girl?
Many guys over think what to first say to her…
They freeze up, say nothing or else say something overly complex or confusing…
You're making it too HARD!!
This is not rocket science my friend…
Your goal is to just get the conversation rolling at first… and then go from there…
I have a 3 word " opinion opener" that I use that is relevant over half of the time…
…continue reading "Use these 3 Simple Words to start a Conversation with A Random Girl" »
Do you get nervous around women? Do you feel anxious approaching girls? Do people refer to you as being "shy"?
If so, you MUST read this question and answer. I reveal how to eliminate social anxiety and approach anxiety FOR GOOD:
Let me get an opinion from you. I'm pretty shy but I have approach anxiety too. Are they different or kinda the same?Any tips for getting over it?

Joe W.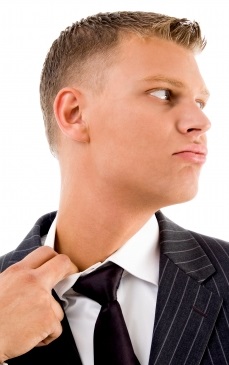 =========
Hey Joe,
They are kind of the same. In my opinion, they are both derivatives of social anxiety. The best solution is using "cognitive behavioral therapy". It's a combination of two therapies.
Cognitive Therapy-
You catch your irrational negative thoughts, like "she's going to hit me & tell me to go to hell if I approach her". You think more logical and more positive, "if I approach her, she is probably going to either like talking to me or just politely excuse herself and leave".
…continue reading "2-Step Pill-Free Cure for Social Anxiety and Approach Anxiety" »
Women want men who can make them laugh…
Humor is something you can learn, no matter what age or height you are…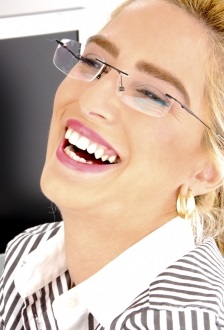 To get you started, here's 3 quick tips to make women laugh:
1) Make a funny observation
Look at your surroundings and make a humorous comment on it. It could be about the venue, what someone is wearing, anything. Just try not to be too negative.
2) Use a Pop culture reference
Women love it when you pepper the occasional pop cultural reference into your conversation. The key is to make them mainstream enough so she will get the reference.
You can even combine pop culture with funny observations. For example, "Hey, that guy looks just like Uncle Jesse from Full House… HAVE MERCY!"
3) Use "Call Back" humor
There's two things that I love… 1) Comedy Central's Workaholics and 2) When stars give dating advice.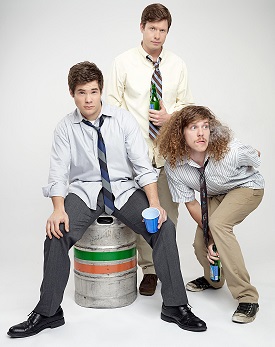 Thanks to an Esquire interview, those two things have come together like peanut butter and chocolate.
Here's what they said when asked for their advice on how to get laid:
Blake: "If you can get a place that has a semi-working hot tub then that's a start. Any time where I felt like I was getting sort of close to any sort of deal, it happened in a hot tub. Just make sure the water's hot. You need some steam so it clouds their vision, really."
…continue reading "Workaholics Adam DeVine & Blake Anderson Give Advice On How To Get Laid" »