If you're new here, you will want to sign up for my newsletter to get FREE dating ebooks and mp3s along with exclusive seduction tips and videos. Thanks for visiting!
Why is trashy reality TV so popular?
It's probably because the people on those shows make us feel better about ourselves.
But isn't that sort of ass backwards when it comes to self-improvement?
I'm an advocate of spending your time learning and becoming inspired by those who are more successful than you.
I want to consume media that makes me want to bust my ass to become a better person.
Instead, most would rather watch trailer trash fight with each other. They watch it and say "at least I'm not as f**ked up as those people, I'm glad I'm better than them".
…continue reading "Stop Watching Trashy TV in order to Feel Better About Yourself" »
Here's my first audio answer to a reader's question. If you have a question about dating, relationship or picking up women ask it on my Facebook page. I might answer it in a future audio answer.
Ryan asks:
The books that teach men how to meet women tell you that meeting women should never be a priority in your life. Well here is my question- if meeting women is not important then why are so many books written on the subject? Why are guys charged thousands of dollars by pick up artists to learn to meet women??It does not make sense to me
Here's my answer (click the video to make the audio play):
…continue reading "How High Of A Priority Should Meeting Women Be In Your Life?" »
Here's 3 quick tips on how to score on the first date.
It's written by Nick Savoy, President of Love Systems and author of the Magic Bullets Seduction & Dating Handbook.
———————-
I'm not a fan of the idea of spending money to attract women. You actually REDUCE your chances with most women if they think you're trying to impress them by spending money.
Here are four quick rules for having successful dates even if you have to cut back on spending.
RULE #1: Skip Dinner
Dinner is a clichéd date. She's been on hundreds of dinner dates. Right away you are conveying that you are "safe," "conventional," and "just another guy."
A dinner date suggests that she should be thinking of you as a potential boyfriend (as opposed to some of the more exciting dates I list below). Women don't tend to sleep with "potential boyfriends" until they are sure, so you will be dating-and-waiting for longer than you need to be.
Here's some tips for telling if a girl is fat or not when using online dating or social networking sites.
Be warned: this article is not "politically correct". I expect to get nasty comments. And if you're reading this mom, I DID NOT WRITE IT. This is written by a pickup artist named Brad P and NOT ME. Anyone who has read eSeduce regularly knows I'm ALWAYS politically correct!

———————-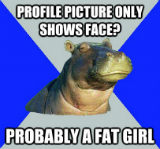 We are living in a dangerous age.
Fat chicks are everywhere. And they're OUT TO GET YOU!
In online dating, on Facebook, on Twitter…. Match.com, PlentyOfFish, YOU NAME IT!
Everywhere you go, fat chicks are using deceptive photographs and touched up pictures to convince you that they are attractive.
Well guess what!!? They're fvcking fat!!!
…continue reading "How To Tell If A Girl Is Fat From Pictures" »