If you're new here, you will want to sign up for my newsletter to get FREE dating ebooks and mp3s along with exclusive seduction tips and videos. Thanks for visiting!
Do you have problems breaking the ice with hot girls in the store? What should you say first to get the conversation going?
In this quick article, dating expert Vin DiCarlo gives you a simple icebreaker you can use the next time you're out shopping.
---
Meeting women wherever you go isn't hard at all, as long as you know how to put icebreakers to use.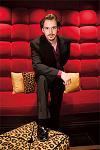 Have you ever seen a girl in public and got goosebumps?
No, she didn't scare you to death, but her face was so damn gorgeous or her ass was so epically round that you just HAD to talk to her.
You know what I'm talking about – that chick whose image stays in your mind for the rest of the day.
That chick you WISH you had spoken to, but DIDN'T.
You simply didn't know what to say, and it felt HELPLESS.
…continue reading "Use *THIS* Easy Icebreaker To Talk To ANY Woman (ABSURDLY Simple!)" »