007 Lifestyle: Living Like James Bond by Derek Johanson
If you're new here, you will want to sign up for my newsletter to get FREE dating ebooks and mp3s along with exclusive seduction tips and videos. Thanks for visiting!
Derek Johanson has come out with a new program called "007 Lifestyle: Living Like James Bond"…
He claims if you get it, "You Will Learn To Live, Play, & Seduce Women Like James Bond. You'll Put To Use The Exact Steps Needed To Have This Amazing Lifestyle."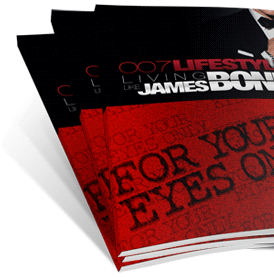 The program is broken down into "Mission" books that target specific areas, including…
* The Style & Image Guide
* Lethal Seduction Techniques
* Money, Wealth, & Exotic Travel
* The Bond Body - 8 Week Training Program
* Casino Gambling Tells
Get it before the Ian Fleming Estate sic their lawyers on Derek's ass for trademark infringement!
Here's the link to visit the Aston Martin-emblazoned sales page…
This product gave me an idea!!!
I'll be coming out with the "Kanye West Lifestyle: Living Like A Tacky Insufferable Asshole" program later this week…