Busted Tees Funny "Big Mistake" Marriage T-Shirt
If you're new here, you will want to sign up for my newsletter to get FREE dating ebooks and mp3s along with exclusive seduction tips and videos. Thanks for visiting!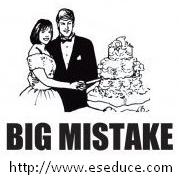 I love this shirt by Busted Tees…
It says "Big Mistake" and shows a bride and groom cutting a wedding cake together…
That TOTALLY sums up my view on marriage

Click Here To Order This Shirt…
You can say what you want about funny t-shirts but they do get attention and you will have people commenting on them. It is like a toned down form of peacocking.