2008 U21 Convention Footage Holiday Sale
If you're new here, you will want to sign up for my newsletter to get FREE dating ebooks and mp3s along with exclusive seduction tips and videos. Thanks for visiting!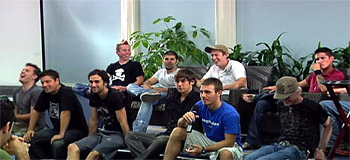 I've subscribed to the 2008 Under 21 Convention footage and the 2 hours of Sinn talking was worth the price alone…
…and that doesn't take into consideration the other 15 1/2 hours of people like AFC Adam, Mehow, Braddock, El Topo, Doc Holliday and Entropy speaking…
Dream is sweetening the deal even more by throwing a holiday sale…
Here's the info on it from him…
———–
Leo from Venusian Skills and I have worked out a $40 dollar discount sale on the 2008 convention footage, bringing the price to a never before seen $127.95.
No joke, a clean 40 bucks off a full membership, including lifetime access to all…
-17.5 hours of instantly playable, high quality footage
-Fully downloadable MP3 audio
-4 Power Points used at the live event by the speakers themselves!
Want a sample? Check out ten minutes of Sinn talking at it…
There is a catch though, and that is this is a one time event, a holiday sale.
It goes until Tuesday evening, and is limited to the first 20 people who sign up.
Make no mistake about it, if you've been patiently waiting to sign up for the footage, this is the time to strike.
Click here to sign up right now for instant access…
http://www.eseduce.com/go/under21convention2008.php
20 spots WILL sell out fast, buy yourself a gift this holiday season and grab your account before they're gone.
Also worth mentioning, 2009 Convention tickets have a price change coming up January 1st, it's a $25 dollar jump from the current price of $199.95.
Confirmed speakers include
Myself (wow, really?)
Manwhore
Matador
Vin DiCarlo
Heartwork
Nick Sparks
Adam Lyons
Mehow
Ratisse
and more!
If you can plan this far ahead for the most massive event
ever witnessed in the community, grab your ticket before
the price jump by clicking here…
http://www.eseduce.com/go/under21convention.php
Thanks for the continued support everyone!
Happy Holidays!
-Dream
Director of the Under and Over 21 Convention