2009 Masterful Lover Super Conference DVD Set by David Shade
If you're new here, you will want to sign up for my newsletter to get FREE dating ebooks and mp3s along with exclusive seduction tips and videos. Thanks for visiting!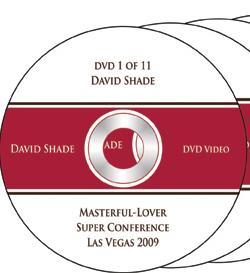 David Shade just released an 11 DVD set containing the filmed footage from his first ever Masterful Lover Super Conference held back in January in Las Vegas.
Click here to see some video clips from it…
The speakers are a good mix and cover such topics as improving your sex life, acquiring the alpha male lifestyle, text message game, understanding a female's mindset, hypnosis and more…
Here's the full details…
David Shade - "How To Become A Masterful Lover"
Brad P. - "How To Make Any Relationship Better With Great Sex"
Zan Perrion -"The Essence of a Masterful Lover"
Carlos Xuma -"How To Have An Alpha Lifestyle"
Will H. - "How To Use Text Messaging For Mental Foreplay"
Mark Cunningham -"The Power of Hypnosis"
Craig Eubanks -"How To Use Handwriting Analysis To Choose Your Lover Wisely"
Heather Ann Havenwood - "Lady/Vixen - The Dynamics Within Women"
Chet Rowland - "How to Find the Woman of Your Dreams"
There's almost 12 1/2 hours of content from the super conference on this DVD set…
…but unfortunately there are only 143 sets available…
…and David Shade doesn't bluff like the other "marketers"… when he says there are 143 sets, that's it…
When they are gone, they are gone!
If there happens to be any remaining copies at midnight EST on April 30, he's going to pull the plug no matter what…
So click here to go check out the video samples and get your copy…
In fact, this is the first time I've seen anyone post a video of Brad P, so click here to see what he looks like before Brad has David take the video down…