4 Essential Men's Facial Skin Care Products You Should Be Using
If you're new here, you will want to sign up for my newsletter to get FREE dating ebooks and mp3s along with exclusive seduction tips and videos. Thanks for visiting!
Today I'm going to get a little "metrosexual" and talk to you about facial skin care…
Your face is by far the most important part of your body in regards to appearance… so it only makes sense to spend some time and money to make it look as nice as possible…
Don't worry… I'm not going to recommend buying a whole medicine cabinet full of expensive lotions, scrubs and peels like Patrick Bateman in American Psycho…
In fact, I spend just $25 every 3 months or more…
Here's exactly what I use and why…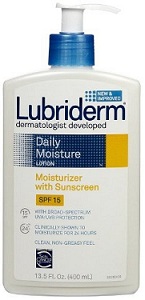 Lubriderm Daily Moisture Lotion SPF 15 Moisturizer with Sunscreen
Apply: Every morning after you shower…
No cream or lotion will magically make you look younger…
It won't erase wrinkles or sun damage…
But it will keep your skin from being dry and itchy…
And most importantly, it can keep you from looking older in the future…
The key is to get a moisturizer that has SPF 15 (or higher) broad spectrum sunscreen added to it…
It's important that any sunscreen you buy is "broad spectrum" or clearly states that it blocks both UVA and UVB rays (currently, some cheap sunscreens will only block one or the other…)
*** Buy It Now or Read Reviews @ Amazon… ***
---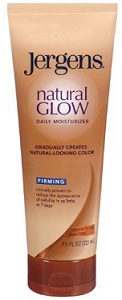 Jergens Natural Glow Daily Moisturizer Lotion
Apply: At night as needed…
So now that I have you wearing daily sunscreen, how do you get tan?
I use Jergens Natural Glow moisturizer at night to give myself a little "artificial" color… it's basically a real gradual sunless tanning lotion…
It's cheap, easy, doesn't smell and works great…
Just be careful if you apply it to your neck and wear a white shirt… the inside of the collar may turn a bit tan (it washes out)…
I prefer the "Medium to Tan Skin Tones" over the "Fair to Medium"… but you can go with the latter if you're super white or just want a little color…
They also make a formula strictly for your face, but I've always used the regular body formula without any problems…
*** Buy It Now or Read Reviews @ Amazon… ***
---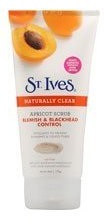 St Ives Swiss Formula Apricot Scrub Blemish & Blackhead Control
Apply: Once every 3 day during your shower…
Your body is continuously creating new inner layers of skin… so in return, it most get rid of the old outer layers of dead skin…
To aid in this, I use an apricot scrub twice a week in the shower…
I always use the type with the added 2% Salicylic Acid, but it's probably not necesary…
St. Ide's seems to have a monopoly when it comes to apricot scrubs and it works really well… but if you have a choice, test the available brands for their "grittiness"…
They all should have ground up walnut shells, but some are ground finer than others… I prefer the biggest and roughest walnut grits because they seem to exfoliate the best…
*** Buy It Now or Read Reviews @ Amazon… ***
---
Apply: Every night before bed…
Use these if you have oily skin or have acne… especially if you are between puberty and your early 20's…
Like most acne pads, Clearasil pads have the active ingredient of 2% Salicylic Acid. But I like them the best because they don't have the inactive ingredient menthol…
Most competitors, like Oxy, add menthol to their pads… It serves as absolutely no purpose other than to create a strange tingling sensation that gives you the illusion it's doing something "medicine-y"…
I find that unnecessary "tingling" sensation annoying… and I don't enjoy smelling like I just rubbed Vick's Vapor Rub on my face…
And even better than being menthol-free, Clearasil are typically the CHEAPEST acne pads available…
(yes, I feel weird recommending the use of "pads" to guys

)
*** Buy It Now or Read Reviews @ Amazon… ***
---
There you go, these are the 4 facial products I use on a regular basis… and for ~$25 you can order them all from Amazon and get them shipped to your house…
They serve the purpose of keeping your facial skin moisturized, oil-free, tan-colored and yet shielded from the suns harmful rays…
You'll instantly look better… and prevent future dermal damage…
Now that we have all this "metrosexual" talk out of the way… it's time to drink Pabst Blue Ribbon, eat bacon and wrestle alligators

It's casual,
Mack Tight