Adam Gilad Dating Younger Women Program REVIEW
If you're new here, you will want to sign up for my newsletter to get FREE dating ebooks and mp3s along with exclusive seduction tips and videos. Thanks for visiting!
Adam Gilad Date Younger Women Program is a new dating advice system for men who are 30 years old or over. It teaches men how to date younger with dignity. Adam is around 50 years old and claims that he's dating multiple hot young girls who are in their 20s… so I guess he's an "expert" on this.
Adam claims that "the Date Younger Women Program is the first and ONLY program designed to show you how to attract beautiful younger women into your life - without being creepy." I dispute his claim that this is the "first and ONLY" such program. Several gurus in the past have put out different "get younger girls" programs, including Adam himself.
Before I get into the Adam Gilad Date Younger Women Program review, I suggest you open this video presentation about the program in another browser tab and listen to it as you read my review….. you can multitask, can't you?

Adam Gilad Date Younger Women Program REVIEW
The Get Younger Women program costs a little less than $50 and includes a workbook, 6 reports and a free trial of his subscription program… here's the exact details:
* Magnetic Attraction Skills Action Workbook
* Cutting Through The Small Talk
* Communications Wizardry
* Becoming the Irresistible Experienced
Man
* 21 Confident Conversation Tactics
* Creating A Magnetic Online Profile
* The 10 Biggest Mistakes Men Make With Younger Women
* Boldness 360 Membership Free Trial
Click Here to Find out EVERYTHING that's included…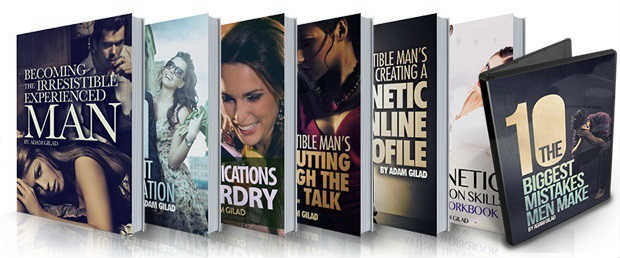 Let it be known that the "Boldness 360″ free trial is optional. You can uncheck a box when reviewing your order and you then you won't receive it. If you do get it, you have to unsubscribe before your 14 day free trial is up otherwise you will be billed $67 on a monthly basis.
As a whole, this program is pretty solid for any guy over the age of 30 who is looking to hook-up with younger girls. Adam tells you how to be a fun loving, yet powerful older man that attracts younger women like a magnet. You won't come off as a creepy old clown, you'll date younger with dignity. You get a lot of material for the money and Adam Gilad has a good track record in the dating advice world.
Grab your copy here for the lowest offered price…
You can also watch his free video presentation by clicking here…
This concludes my Adam Gilad Date Younger Women Program review… if you have questions, leave them below or contact me on Facebook.
It's casual,
Mack Tight