Advice for Joe D. of "The Pick Up Artist" for the Rockn Celebrity B-Day Bash
If you're new here, you will want to sign up for my newsletter to get FREE dating ebooks and mp3s along with exclusive seduction tips and videos. Thanks for visiting!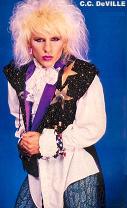 I recently saw a press release that said "Joey D." of MTV's "The Pick Up Artist" was going to be a guess for the Rockn Celebrity B-Day Bash for Michael Esterman at Blush Nightclub in Las Vegas on April 4th.
Along with Joey D., other "celebrities" were confirmed to show such as CC DeVille, Omarosa, various VH1's Rock Of Love ladies, Coolio, Ron Jeremy, NBC's Deal or No Deal case models, MTV's That's Amore cast member Kim and Rita G.
This brought up several questions.
Since when is he "Joey"? Wasn't it on VH1 and not MTV? Who the fuck is "Michael Esterman"? Why is such a mish-mash of B-Grade and reality stars coming together for this "bash"?
I grabbed my pipe and magnifying glass and searched for some answers.
Apparently Michael Esterman is a "celebrity" agent. He seems to focus on reality and internet "stars". He also has some B-grade actors/actresses, musicians and Playboy models.
And what do you know, all these confirmed "celebrities" are also his clients!
Apparently he has all "The Pick Up Artist" contestants as clients. I wonder how many people are booking Pradeep and Spoon for their nightclub events?
As for Joey D., he is reaping the rewards of fame. There are going to be some hot women at this event and he has a great opportunity to hook up with a serious HB10.
Today's your lucky day Joey because I got a six step game plan to help you out!
1. Bust out your patented "Did you see those two Rock of Love girls fighting outside?" opener on Kim of "That's Amore". Build comfort then ask her who she is. When she says she was in "That's Amore" neg her by saying she must be pretty fucking old if Dean Martin was singing about her. Use her as a pivot.
2. You may be tempted to open CC DeVille but be forewarned, 'it' is actually a "dude" and not a girl!
3. The Deal or No Deal models will probably see your social proof and will be orbiting with their briefcases in hand. Ignore them, they are the lowest of reality stars. By next year they'll probably be shooting foot fetish porn in a warehouse in the San Fernando Valley or waitressing at Denny's. You don't want to bring down your status talking to them
4. Side step Rita G unless you want to end up pummeled by a shovel while being gagged in the trunk of a car.
5. Obey the 3-second rule and open Omarosa. Blow out the AMOGs. Tell Ron Jeremy to go wax his back and Coolio to take a "Fantastic Voyage" back to 1994 when people actually knew who he was.
6. Switch it up and go natural game on Omarosa. Be direct and tell her you think she is a "complete bitch". Chug a bottle of Grey Goose to numb the senses and then f-close her and steal her purse (wallet?) in the morning.
I don't want anyone to take this too seriously. It's Friday and I'm just kidding around.
For example the bit about the Deal or No Deal models in the Valley wasn't meant to be mean. Everything will work out for them. They will get another 15 minutes of fame when Thundercat shows up at a shoot and asks them questions about celery and pineapples (if you get that reference you get a scratch 'n sniff pickle sticker).
After writing this I expect my RSVP for this bash in my mailbox by Monday.