Age is a limiting belief, unless you want to be Todd V's Coach Assistant Intern (*HYPOCRITICAL!?*)
In the men's dating community.. age, height, baldness, and race/ethnicity are all considered "limiting beliefs"…
A "limiting belief" is considered an excuse. No matter your age, height, amount of hair or ethnicity.. you can still get better with women and eventually develop the skills needed to date the girls you desire.
For example, Todd V is a mens dating coach who is 36 years old… but because of his skills, he has no problem dating girls in their early 20's.. or even younger.
That's why I find it so ironic that Todd V is asking for the "age" of anyone applying to be a coach assistant intern for his business…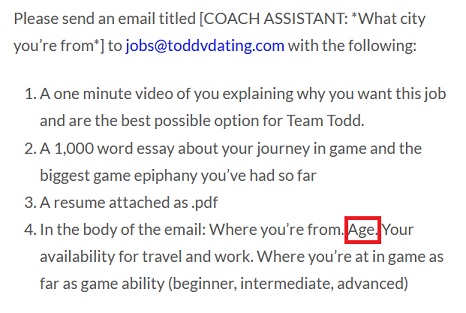 Why does the age of the person matter? I can see having a yes/no question about the candidate being over 18 years old or even 21… but isn't age something an employer is not allowed to ask? Are they trying to weed out candidates you consider "too old"?!
Feel free to let me know why age is relevant.. otherwise, it seems a bit hypocritical to me.
It's casual,
Mack Tight