Anthony Robbins NBC TV Show- "Breakthrough With Tony Robbins" Premiere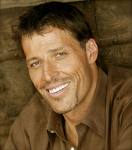 The first time I heard of Tony Robbins was when David Deangelo name-dropped him in one of his products (I can only imagine David referred to him as his "good friend Tony"

)
Tony is a powerhouse in the "self help" niche, at a level that most pickup gurus can only have wet dreams about…
I checked out Tony's "Awaken The Giant Within" audio book a while back and found it boringzzzz…
It didn't help that he's got one of those "smoke 12 packs-a-day" voices that could peel paint off siding…
Get that old paint off the easy way…
But the guy's probably pushing 9 figures+ while I'm pushing my broken down '92 Escort…. who am I to cast stones?
In fact, Tony's landed himself a reality program on NBC this summer…
It's called "Breakthrough with Tony Robbins" and it premieres Tuesday, July 27 8/7c…
Here's the description of the show:
International star, bestselling author, philanthropist, advisor and inspirational speaker Tony Robbins
uses his extraordinary skills to help deserving individuals who have suffered terrible setbacks.
It shares some of the same executive producers as The Biggest Loser and
Extreme Makeover: Home Edition…
If that doesn't scream "Must Miss" TV… I don't know what does!
I can only imagine David Deangelo will be setting front row, frantically clapping at the live finale
on August 17th in Los Angeles…
He'll reach out and try to clap Tony's hand as he walks by and Tony will leave him hanging like
a flaccid cock…
Check out Tony's "inspirational" book in anticipation of his "extraordinary" show…
UPDATE: Bobby Rio says they REALLY are best buddies in business… Apparently Davey D does some kind of interview crap for Tony or something… Now you can get your marketing pep-talk Zzzzzzz's in stereo…