Attraction Makeover by Emily McKay Review
If you're new here, you will want to sign up for my newsletter to get FREE dating ebooks and mp3s along with exclusive seduction tips and videos. Thanks for visiting!
Attraction Makeover is a new product for women by Emily McKay…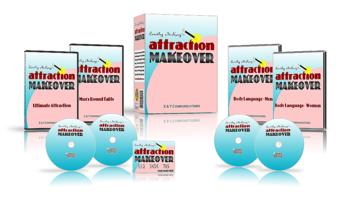 Who the hell is Emily McKay you ask?
Why she is Scot McKay's wife!
And how do I know that Attraction Makeover is for women?
Because the sales page is in pink and pastels!
Why do women need a product to attract men?
Because attracting quality men is so damn HARD for women!
This program is sure to teach women how to handle pussyblocking AFOGs, get past the "dick shield" men have in nightclubs and gain approval of all his father rooster wingmen…
I kid… I kid…
Here's a video promoting Attraction Makeover…
The video doesn't load for me but it looks like Emily is doing her hair in it… SWEET!!!
I know, this is truly a shitty review… It's friday and my attention span is even lower than normal…
The whole product is less than $40 and you can click here to find out more about it or order it…
Otherwise if you are a guy, which I'm pretty sure you probably are, you might want to check out Scot's The Leading Man program instead…