Attractology Foundations Ebook
If you're new here, you will want to sign up for my newsletter to get FREE dating ebooks and mp3s along with exclusive seduction tips and videos. Thanks for visiting!
Briddick Webb recently sent me a preview copy of his new Attractology Foundations ebook.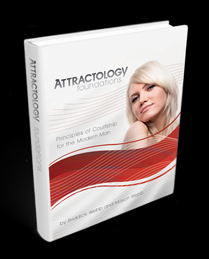 I haven't had the time to read it all yet, especially considering it is a whopping 210 pages (and there's no filler pictures either… this ones pure content).
But I have spent some time looking through it and it seems like your typical introductory pickup ebook that covers a little bit of everything attraction related. I saw chapters dedicated to opening, fashion and body language just to name a few (for the full table of contents of all topics covered click here).
It seemed fairly well organized and written from what I saw. The proper pick up artists were credited when their concepts were referenced. There was a peppering of current pop culture to liven things up, like references to Hank Moody from Californication.
Those are all good things, but I confess that I haven't read enough of it to determine if it is just a rehash of all the other pickup ebooks or if it has something new to offer.
One of the big selling points is the price: $24.99… That's quite reasonable for a ebook of this length. Also of note, it comes with a 7 day money back guarantee.
If this sounds like something you want to check out, click here to learn more…