Bad Dating Advice: David Deangelo's Disney Princess Coloring Books
Each week I talk about one piece of men's dating advice that I've encountered that in my opinion is bad…
This weeks bad dating advice is by David Deangelo. It involves planting coloring books and crayons in your bachelor pad.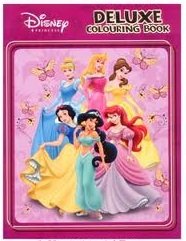 Back in the mid-2000's, David Deangelo was king of the men's dating advice scene. He was pumping out seminar programs about as ferociously as Master P did rap albums in the late 90s. The highlight of these seminars were guest speeches by PUA heavyweights like Mystery and Owen "Tyler Durden" Cook. But it seemed like for every good speaker, you had to set through two who didn't know their head from their ass.
Like anybody who puts on a PUA seminar, David took advantage of the opportunity and spoke himself. He was a good speaker and excelled at covering the psychology of dating. I give him credit for summing up the attitude women find attractive in men by using just two words… cocky… funny.
I was never a fan of his attempts to connect animal evolutionary adaptations to dating. They seemed to be boring misguided analogies to me… but that might be because I just don't give two shits about squids modifying their color based on their environmental surroundings and how it supposedly correlates to the changes in female human behaviors.
He also liked to throw out random suggestions that seemed interesting… but if you used them, or even really thought about them, they were just plain dumb. I question if some of his suggestions were actually tested. The most notable one was the "Disney Princess Coloring Book" recommendation.
In one of his seminars, he was throwing out quick tips on how to make your home more inviting to women. One suggestion was to buy coloring books and crayons and put them in a conspicuous place where women would see them. I remember him specifically recommending any coloring book with "Disney Princesses". He implied that the coloring books would be "chick bait" and the girl would instantly get giddy and start coloring in them. I have no idea how grown women coloring was supposed to lead to sex… but whatever, David said it and I was sold.
Like a lemming, I went to my local Target and bought coloring books and crayons and put them on the book shelf in my living room. The result was a lot of confused visitors…
"What's up with the coloring books and crayons?"
"Do you have kids?"
It generally seemed like the coloring books and crayons made girls LESS attracted and MORE uncomfortable. Never once did I have a girl actually color in them. I found myself trying to DEFEND myself for having them more than anything… and I never could think of a viable excuse for them being there. Eventually I just gave them to a person at work who had kids.
In hindsight, it was a dumb idea and I should have known better. Viewing the situation from a female perspective, I would find it very odd for a grown man with no kids to have Disney Princess coloring books laying around his apartment. It seems very 'try hard'. Dare I say… even a bit CREEPY.
Years later, my views of home decor have changed. Rather than try to blatantly impress girls with material possessions, I simply try to hide or remove any 'red flags'. Declutter your house, match colors and themes when possible, hide potentially 'quirky' or embarrassing items and overall simplify and streamline your environment. Let your 'game' attract and seduce the women… all your home needs to do is be functional, logistical and not throw a sabotaging wrench into anything.
In fact, in my apartment I do not have video games, magazines, Blu-rays or CDs openly exposed on shelves or the floor. I only have one book visible to the naked eye… a coffee book.
Subscribe to my blog feed so you don't miss next weeks bad dating advice… hint: it involves a certain dating guru recommending that you keep a highly SEXUAL book on your coffee table

Bookmark my blog, sign up for email notifications or follow me on Facebook so you don't miss it…
If you liked this article, please do me a favor and click the Facebook like button below or the G+ and Twitter button above just below the title. THANKS!
It's casual,
Mack Tight