Behind the scenes of Bobby Rio and Michael Stoute's radio show
If you're new here, you will want to sign up for my newsletter to get FREE dating ebooks and mp3s along with exclusive seduction tips and videos. Thanks for visiting!
I've been reading The Seduction Bible blog for over a year and have seen it change drastically in that time.
Bobby and Mike never used to show pictures or videos of themselves on their site.
I didn't blame them.
When it comes to showing pictures of yourself online you really need to evaluate the risk with what there is to gain. This is no different than any other decision you make in life.
Apparently they thought the gain beat the risk at this time and they have recently been putting videos and pictures of themselves online.
Click here to see a short "behind-the-scenes" video of them doing their radio show.
First things first, where did they find an attractive girl who voluntarily wears Transformers shirts?
I bet they're rarer than break-dancing unicorns…
As far as Bobby and Mike… Bobby looks like I pictured him …Mike looks a lot different.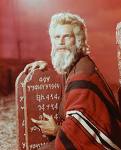 I thought Mike would be in his 40's with an unkempt gray beard like Charleton Heston in The Ten Commandments. I don't know where I got this from …maybe since his voice was so raspy and he was always coughing. Here he is some young dude with a trucker hat. I'm gravely disappointed….
Anyhow, I'm looking forward to more videos of them in the future. Maybe they'll shoot video of their future Mansformation retreat and release it as a DVD set for us who can't make the retreat.