Beyond Seduction Event with Jon Sinn & Carlos Xuma
If you're new here, you will want to sign up for my newsletter to get FREE dating ebooks and mp3s along with exclusive seduction tips and videos. Thanks for visiting!
Jon Sinn and Carlos Xuma are joining forces this October 22-24 to put on a 3-day live event in Los Angeles…
It's called the "Beyond Seduction" Event… and it's going to be one of the hottest PUA
tickets of the year…
Jon & Carlos will teach you how to gain total confidence with women… and take you your game &
life to the NEXT LEVEL…
Click Here To Learn More About It At The Event's Website…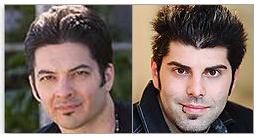 Here's some more info about the event…
Jon Sinn's First Live Appearance In A Long time…
As far as I know, this is Jon Sinn's first seminar in a LOOONG TIME…
In the past couple years, he's given up going to the big, conglomerate pickup "summits" & "conventions"…
This is your ONLY chance to learn IN-PERSON from the #1 PUA IN THE WORLD…
The Price Is LOW…
You're probably thinking a 3-day seminar with two of the hottest PUA's is gonna
cost you THOUSANDS… but you're way off!
Through the links in this post, tickets are less than $300!!!
Reserve You Seat Now And Save!
>>> There is one BIG PROBLEM… <<<
There's only 100 total seats… and 50 of them have already been snatched up by Jon & Carlos
personal students…
That means there's only 50 left, and they are gonna go FAST at this rock bottom price…
So get your ticket NOW b4 they're GONE…
Jon & Carlos promise that this will be a "life changing event" for anyone who attends…
This Event Gets Mack's Recommendation…
I personally recommend this event to my readers…
I'd much rather spend 3 days with two pickup instructors that I know are good than go to one of these other 2-day "mega-conventions" where they rush 30 random pickup gurus up & off the stage…
First, these guys will have a lot of time to go into much greater depth about their methods…
At some of these other convention with 20+ PUAs, sometimes each speaker gets as little as 15 minutes to speak…
To make matters worse, they spend half that time pitching & advertising their products and/or personal coaching…
I guess what I'm trying to say is that sometime MORE is actually LESS…
I like the majority of Sinn's theories and concepts and think he's putting out the most original and effective pickup advice as of right now…
Why would you want to go to a seminar with anyone else?
Learn more about the event here…