Blissnosis is released by Derek Vitalio
Blissnosis is a new dating product for men created by pickup guru Derek Vitalio of Seduction Science fame.
Here's a bit of the description taken from the product's sales page with the excessive capitalizations preserved…
Transform Your "Inner Game" to Take Control of Your Sexual Relationships And Become The Sexually Powerful, Attractive Man That Beautiful Women Desperately Want..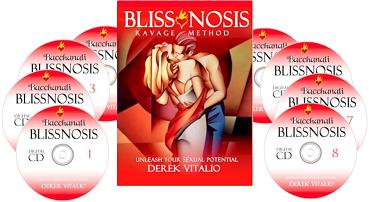 Apparently this product teaches you inner sexual confidence and how to be the leader in the bedroom.
It also seems to focus on explaining what women really want in regards to sex and relationships with men but are not willing to outright tell you.
Here's Derek's description of what is included with Blissnosis…
* Over seven hours of instant-download audio files of all-new, digitally recorded material

* The revised and expanded Blissnosis 2nd Edition electronic book (nearly 300 pages long!)
The audio and ebook sells for $137.00. You can also just get the ebook alone for $36.
Click here to get the audio and ebook…
Click here to get only the ebook…