Brad P 10 Minute Seduction Pheromone Kid Review (*SECRET DISCOUNT!*)
If you're new here, you will want to sign up for my newsletter to get FREE dating ebooks and mp3s along with exclusive seduction tips and videos. Thanks for visiting!
You guys all know I've been a big Brad P fan since the beginning… I even did a Brad P interview a few years back…
His products are really good… but also kind of pricey…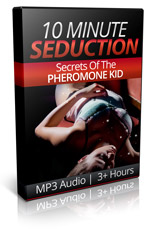 Good news… he's currently running a special deal that includes 6 of his former products for less than $70…
This is frickin' insane!
In this package, Brad P is highlighting his 10 Minute Seduction program. This is a solid program where Brad and his buddy the "Pheromone Kid" talk about how to get same night lays, one night stands and bathroom pulls with women.
They focus on escalating sexually really fast. It's definitely edgy and controversial stuff. Some of the advice might takes a lot of balls to put into practice… but if you do, the results are amazing.
It's a total 180° from the typical vanilla dating advice you get from the likes of Dr. Phil and Oprah. There's no wasting money on a date in hopes of getting a kiss. This is all about going out to a night club, approaching a hot girl and ten minutes later getting a blow job from her in a bathroom stall. Once you listen to this, it will change the way you pickup women. You'll get more sex by spending less time and money.
If you haven't had enough after the 3+ hours of MP3s in Brad P 10 Minute Seduction: Secrets Of The Pheromone Kid… there's 5 more awesome ebooks and MP3 programs in this discounted package too!
Below is a list of the included products followed by the normal selling price and a link to learn more about each individual product…
* Brad's Fashion Bible - regular price $67 - more info here…
* How To Beat Approach Anxiety - regular price $49 - more info here…
* Instant Attraction - regular price $39 - more info here…
* Interviews With Naturals: Joe Natural Uncensored - regular price $49 - more info…
* Interviews With Naturals: Buzzy - Master of Threesomes - regular price $49 - info…
* 10 Minute Seduction: Secrets of the Pheromone Kid - regular price $49 - info…
So based on those values… I came up with a total of $302 worth of products, and you can get them ALL for less than $70 here…
I have all these programs and they are really good. My only complaints are that the approach anxiety program is a bit brief (only ~30 minutes) and some of the products are a few years old… but at this price, getting this deal is a no-brainer…
I have a feeling he's doing this deal because he hopes you'll see how good his advice is and then later buy one of his bootcamps, join his 30/30 Club or purchase his more recent products…
Speaking of his other products…. Here's a not-so subtle hint: Brad P Secrets Of Inner Game is his most recent program and it's really solid. It usually costs $79. If it gets offered to you for a "special price"… I highly recommend getting it

So that's my 10 Minute Seduction review… get it now at this discounted price because I hear that Brad P will be raising the price or eliminating this deal real soon…
~~>> Grab this crazy deal before it is gone… <<~~