Brad P Black Book Method Review ~ READ THIS!
Dating Coach Brad P has a new mens dating program out called the Black Book Method.
He made a free explicit x-rated video about it. There's also a PG-rated video.
If you don't know who Brad P is, he's been teaching guys dating advice since the mid-2000's. A few years back, he was voted the "#1 Pickup Artist in the World" by several mens dating blogs. I first blogged about him in April 2008 and interviewed him in May 2008. (You can listen to that 45-minute Brad P interview here.)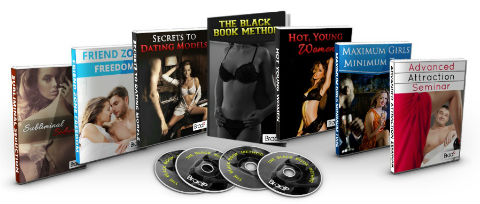 So what is the Black Book Method?
Here's his brief explanation of it.
My black book, on the other hand, is filled with strategies and techniques you can use to easily coast under any woman's "bitch shield"… Taking her by surprise and having her instantly get to know the real you… The guy women always want, but never let themselves find.
Mainly, it's a smorgasbord of dating tips for men.
Here's what was actually included:
* Black Book Method PDF Ebook & MP3 Audio
* Subliminal Seduction
* Friend Zone Freedom
* Secrets To Dating Models
* Hot Young Women
* Maximum Girls Minimum Time
* Advanced Attraction Seminar
* How To Score At The Playboy Mansion
* 30-30 Club Free Trial
The price is quite reasonable.
Is Brad P Black Book Method a Scam?
No. I've been a big Brad P fan for years. I consider him and Jon Sinn to be two of the best dating experts to learn from.
The Black Book Method has a lot of content and bonuses. You'll learn a lot from it.
Brad has a Master's Degree in psychology. It shows. He knows how to pick a part a female mind and explain to you how they think.
What I DON'T Like about the Black Book Method…
There are two things I'm not a fan of. I don't like it that you're forced to try out the 30-30 Club. It's a great program, but it also costs $79/month after the 30 day trial. Make sure you cancel your subscription if you don't think it's worth the money.
I also think his x-rated video is too explicit. Maybe I'm a hypocrite because I teach guys how to have quick sex with girls… and then get butt hurt over a video that includes scenes of a guy getting his dick sucked, a guy eating out a girl and a couple having sex.
These explicit videos were shocking back when these dating experts started advertising their products on porn sites 3-4 years ago. Now, they're getting old.
Although the naked chick shown at the 3 minute mark had nice tits.

In conclusion, get your copy now. You won't be disappointed.
There's a money back guarantee and I will vouch for Brad P.
I hope you enjoy this Brad P Black Book Method review. You can give your own Black Book Method review in the comments below.
It's casual,
Mack Tight
http://www.eseduce.com/go/bradp/blackbook-xxx-discount.html