How Brad P Gets Laid just by Wearing a "Magical" Pointless Scarf
If you're new here, you will want to sign up for my newsletter to get FREE dating ebooks and mp3s along with exclusive seduction tips and videos. Thanks for visiting!
Here's a quick article by Brad P, author of the Fashion Bible, on how to attract women by wearing "non-functional" fashion accessories…
Apparently, Brad likes to wear a scarf when it's warm out. This "magical" scarf gets him laid…
How you ask? Keep reading and you'll find out…
==========================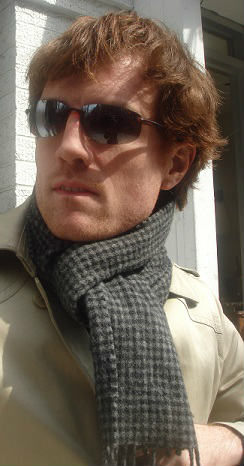 Well, It's 70 degrees in LA, and right now I'm wearing my magical pointless scarf.
Why?
No, it's not to keep me warm… I knew you'd say that.
It's because non-functional accessories help to create a high fashion look… which is great to attract hot women.
Let me explain…
A "non-functional" accessory is something that doesn't actually serve a purpose. Like wearing a hat indoors, or sunglasses at night…
Or a scarf during a Hollywood spring.
Women notice this for two reasons…
First, it causes you to stand out from the other "lemmings" wearing sneakers, jeans, and a T-shirt…
And second, because if you're wearing something that serves no purpose other than to look good that means you've put a lot of thought into your outfit and how you look…
Which means you both have the confidence to do something different…
AND you take care of yourself.
Instant brownie points in the eyes of any woman.
Don't believe me?
Then just look around at the pointless accessories that celebrities wear. Women notice them because they stand out.
It's like you broadcast certain "signals" they can't help but latch on to.
Now, I'm not saying you should go out and buy a scarf. For most guys a scarf probably isn't the best idea.
Instead, you want to use a sexy stereotype to get women attracted to you.
In other words, you want to take an element – or multiple elements – from guys girls fall for and work it into your own look.
Rappers, movie stars, musicians, CEOs, hipsters…
They all might have something that will work for YOU and YOUR particular look.
My Fashion Bible tells you a lot more about this. If you want to check it out, click here…
Talk soon,
Brad P.