Brad's Fashion Bible review
If you're new here, you will want to sign up for my newsletter to get FREE dating ebooks and mp3s along with exclusive seduction tips and videos. Thanks for visiting!
The seasons are changing so I decided to go through my winter clothes from last season and laughed at what I saw…
I really needed some new fashionable clothes.
I decided before going shopping that this would be a good time to read Brad P.'s Fashion Bible.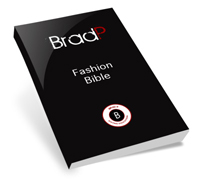 Here's the author's overview on the products sales page:
* Do you notice how many men keep wearing the same boring black or navy suits?
* Are you frustrated and confused when standing in front of your closet to trying to pick out a great outfit?
* are you tired of being lead to foolish choices by a commission driven salesperson?
* Still worrying what impression you make on a first date or unsure of how to dress up to attract that certain person

Most men don't realize how much fashion choices impact their dating success. This book will help you make the right decisions to turbo-charge your success with women - Brad P style!

This is what I want to impart you through this book - an easy, turn-key system that will allow you to harness your creativity and intelligence by giving you a structure and system for how you dress. I will teach you how to attract a particular kind of woman without obsessing too much with clothing.

The goal of this book is to help you attract beautiful women. In order to succeed at this you must have a clear sense of purpose and direction. If you're one of the million guys out there who has been saying his whole life: "Nah, I'm not into clothes. I just wear what feels comfortable," you are missing on one of the simplest ways to attract women before you even open your mouth.

Once you understand the systems and structures from this book, fashion is going to become one of your quickest, easiest, most reliable skills in your arsenal. You will start to love fashion and style and the looks that will get you noticed by beautiful women.

In the book I discuss the obstacles that prevent most men from dressing in a way that actually attracts women in the real world. The book includes tons of pictures with specific commentary on dos and donts. I guarantee no other book covers fashion for men at this level. No other fashion book discusses how to look sexy and get attention from attractive women. Everything here is "field-tested" by me and my team of instructors, students, and volunteers.
Now here's my review of it…
Brad's Fashion Bible Review
Brad's Fashion Bible is a roughly 125 page ebook written by pickup guru Brad P.
As you can see above the cover is a very generic yellow and black which seems a bit peculiar for an ebook about fashion. Don't worry though, the contents of the ebook make up for the boring cover…
The book is well organized and it is easy to read. It includes numerous pictures as examples to help you understand better.
It first focuses on deprogramming you from society's social programming which is influencing your fashion in a harmful manner…
Then it shifts gears into reprogramming you with tips and suggestions for styles that will put you in a sexy stereotype that women are attracted to.
Let me elaborate…
It warns of dressing too "vanilla" just to fit in and it also warns of using excessive peacocking to stand out to much so that you'll look like an attention whore…
Brad seems to ride the rail right down the middle for a perfect balance with his advice.
He gives pop culture references that are extremely current like the rapper Young Burg yet he also adds flashback references to Theo Huxtable from The Cosby Show along with it.
A lot of the fashion advice I have read in the past has been very specific which made them quite perioded. Often they focus too much on current short term trends of the moment like trucker hats, carpenter pants and tattoo artist t-shirts. By the time it is published the advice is already out of date…
Brad avoids this pitfall by focusing more on general sexy stereotypes. He also tackles timeless concepts like layering and color matching.
I think the book is rock solid and I recommend it.
It is a great book for men who are not fashion conscience.
It will change your attitude and enlighten you about how you can use fashion to attract women.
If your closet is full of khakis, boring polos, sports team t-shirts and yawn-inducing button down shirts then you NEED this book to guide you to be the man women stare at rather than pass over based on their look.
If you don't agree after reading it there's a full money back guarantee.
Click here to get your copy now...