Chick Flick Friday: The Notebook
Every Friday I will do my review (or in this case rant) of a chick flick I hate or a dick flick I love. I will try to switch every other week but there are no guarantees. If you have any recommendations for movies for me to review, let me know.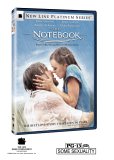 The Notebook is one of the most notorious chick flicks of recent years. It is so notorious that the term "Notebooking" is a reference to a chick getting her guy to watch the movie and cry.
I have never and will never get "Notebooked". A gaggle of girls could strap me down and force my eyelids open like in A Clockwork Orange
and try to make me watch it but I will swallow my tongue before it happens. I guess that means this will be a piss-poor review.
I went to my friend's places and amongst the Rambo and Terminiator trilogies he had The Notebook. I immediately yanked his man card and shredded it. He told me that it was a touching movie about old decrepit people remembering their past love in their youth.
I'm so sick of movies like Titanic and Saving Private Ryan where they have to bookend the movie with some old fart reminiscing. Break out your walker and head down to your McDonalds for coffee and create some memories of the present. Maybe you'll meet Blanche from the Golden Girls there and she can finally give you a valid reason to complain about your sore back.
It's time for me to end this rant after referencing the Golden Girls. Just don't fall for getting "Notebooked". If you are pussy-whipped and you plan to set through it in hopes of getting laid afterwards; don't bother because your dick will probably be limp for 24-hours after watching this movie.
It's casual,