Chick Whispering by Scot McKay
If you're new here, you will want to sign up for my newsletter to get FREE dating ebooks and mp3s along with exclusive seduction tips and videos. Thanks for visiting!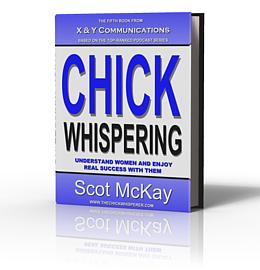 Scot McKay has just come out with a new program called "Chick Whispering"…
You've probably heard of Cesar Millan "The Dog Whisperer"… well, I guess Scot McKay is The Chick Whisperer because he helps men understand women better…
Here's all the details about the program that were sent to me…
***************
Don't believe everything you've been told since you were young.
As if by default, most guys think women are a "question, wrapped in an enigma surrounded by a quandary".
But it's really as simple as this: Know what a woman wants, know what she'll naturally respond POWERFULLY to, and you'll separate yourself from 99.99% of the other guys out there.
Scot McKay's new Chick Whispering program, inspired by his popular podcasts, includes the definitive 214-page guide on understanding women better.
There's a ton of guys out there asking $47 for e-books. But Scot has built in TEN AMAZING ADDITIONS to the package for you–making this package way, way more than what anyone expected…seriously.
So along with the 214-page e-book itself, here's the kind of insight into finally unraveling the female mind that you can look forward to:
=====
1–Initiating Sex, by Alex Allman
World-class sex expert Alex Allman explains exactly how to initiate sex with a woman in this exclusive EXTRA e-book. Keep her comfort level and attraction high, even as you keep your likelihood of rejection low.
2–Relating To Women Authentically, with Stephen Nash
Cutting Edge Image Consulting's Stephen Nash discusses the finer points of relating to women as your genuine, authentic, masculine self–and having it work to the benefit of everyone involved.
3–Women From Other Countries And Cultures, with Carlos Duran
Join Carlos Duran from Love Without Borders and for a free-wheeling discussion about how exactly to meet and attract women from other countries and cultures. No matter where you travel in the world, you can be successful with the amazing women you meet there. Carlos shares all of his secrets in his inimitable, high-energy style.
4–Dating Younger Women, with Dean Cortez
M.A.C.K. Tactics' Dean Cortez joins Scot for a frank and entertaining discussion on the pros and cons of dating younger women. They report, you decide…
5–Communicating With Women In Long-Term Relationships, with Sebastian Drake
Sebastian Drake is a crowd favorite, and for good reason: He respects women and women respect him in return. Enjoy this laid-back conversation featuring best strategies for communicating with women and understanding their needs and desires over the course of a long-term relationship.
6–Speaking Womanese, with Jason Claiborne
Jason Claiborne is the author of How To Speak Womanese and actually owns the trademark for the term "womanese". So you can bet that when he and Scot sat down together to discuss what it means to understand women some outstanding original content came from it all
7–How To Creep People Out In 12 Easy Steps: The Bonehead's Guide To Blowing First Dates
Let's face it, there's nothing worse than having a woman cut things off after a date, never to be heard from again. All too often you're left wondering what could have possibly gone wrong. Well, consider this special report the ultimate "head check". Discover a full dozen ways guys often crater first dates–and make sure it never happens to you ever again.
8–How To Understand Women, with Marie Forleo
As a frequent guest of David DeAngelo and others, Marie Forleo has proven time and again to be one of the most gifted experts on this planet when it comes to articulating ways men can improve their skills with women. In this striking discussion, Marie will literally share with you how to understand women. Also discover powerful ways to identify both "manipulative" women and "immature" women.
9–A Guide To Dealing With Sharp And Successful Women, with Alicia Dunams
Alicia's specialty is actually teaching women how to forget about marrying millionaires and become millionaires in their own right instead. So who better to address the subject of how guys can attract and relate to particularly intelligent, motivated and even financially successful women?
10–Four Types Of Women, with Amy Waterman
Amy Waterman from 000Relationships drops by to discuss how to attract different types of women and keep them attracted. What Amy shares may flat-out surprise you, but as always you can count on Amy to deliver a balanced approach to dating and relationship advice that is clearly about empowering both men and women at all times.
=====
As you can see, each of these additional components to Chick Whispering is 100% legit. No "teasers" or "sample chapters".
As Scot has become well known for, this entire package on understanding women packs A LOT of bang for the buck. Every single man should be able to understand women better if he so chooses…and that's why the price is VERY MUCH under control.
Even though Chick Whispering is jam-packed with over three hours of audio content and a whole EXTRA e-book, it's still yours for JUST $47. Here's the link to the page where you can get your copy:
http://www.chickwhisperingbook.net
Note that Scot has a video for you with more information on exactly what you can expect from Chick Whispering. There's no long page with a red headline at the top this time.
So by all means take a look at the video and score your copy. There's not really any other program out there that offers this much insight into understanding women.
http://www.chickwhisperingbook.net