Chuck Palahniuk Pygmy Review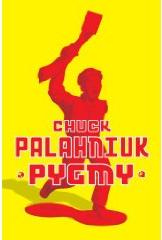 Chuck Palahniuk's Fight Club novel
and resulting film
were huge inspirations to most guys in the seduction community (including me)…
Chuck's got a new book coming out May 5th called "Pygmy" that the critics are already saying is "his return to the fine form of Fight Club" and his finest novel since Fight Club.
Now I'm sure everyone tries to compare every new book he comes out with to Fight Club… and I'm sure his publisher only encourages it…
…but with references to terrorist cells, commanding the deadly arts and something called 'Operation Havoc' which will be unleashed (that sounds an awful lot like 'Project Mayhem'), I'm sold!
I've got my copy already preordered at Amazon.
Here's some more info and a review…
Book Description
Pygmy is one of a handful of young adults from a totalitarian state sent to the United States, disguised as exchange students, to live with typical American families and blend in, all the while planning an unspecified act of massive terrorism. Palahniuk depicts Midwestern life through the eyes of this thoroughly indoctrinated little killer, who hates us with a passion, in this cunning double-edged satire of an American xenophobia that might, in fact, be completely justified. For Pygmy and his fellow operatives are cooking up something big, something truly awful, that will bring this big dumb country and its fat dumb inhabitants to their knees.
Review
"The Manchurian Candidate meets South Park—Chuck Palahniuk's finest novel since the generation-defining Fight Club."
"This isn't for everyone: as ever, Palahniuk is interested in pushing the limits of what readers will tolerate in terms of clinically described sex and gore. However, in contrasting the mindless sloganeering of totalitarianism with the anything-goes nature of Americanism, his own message is anything but subversive. By now, the author's fans know who they are. Those… will welcome his return to the fine form of Fight Club (1996). Palahniuk leaps over the line of good taste—and lands squarely on his feet."
— Keir Graff, Booklist
Order It
Amazon US
$16.47
Preorder it now, shipped May 5, 2009
Amazon UK
£8.57
Preorder it now, shipped 4 Jun 2009