Confessions of a Pickup Artist Chaser - A Feminist Vs. The Seduction Community?
If you're new here, you will want to sign up for my newsletter to get FREE dating ebooks and mp3s along with exclusive seduction tips and videos. Thanks for visiting!
There's a new book out called "Confessions of a Pickup Artist Chaser: Long Interviews with Hideous Men"…
It's written by Clarisse Thorn, a self-proclaimed "feminist S&M writer and activist"…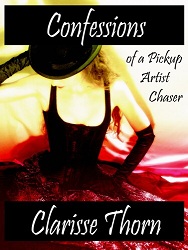 WTF?!?… seriously, a "feminist S&M writer"?
The next time a girl asks me what I do for a living, my new smart ass comeback is going to be "I'm a feminist S&M writer" .
I digress… back to Clarisse's new book…
Apparently she got involved with the seduction community for several years and wrote a book about it from a feminist standpoint…
You can check out the book at Amazon…
I haven't read the book, but from the reviews it sounds like she took a more neutral stance on the pickup artist community…
I don't know which PUA's she interviewed for the book… but she does speaks favorably of Mark Manson and was on a panel with Adam Lyons at SXSW…
If you read the book, let me know what you thought of it with a comment below… otherwise there are some comments at Amazon for the ebook…
I have to share one last thing with you before I list the details of the book…
I checked out a Facebook page by Clarisse regarding Confessions of a Pickup Artist Chaser and found this comment left on it…

Frickin' priceless!

Oh Veronica, your witty sarcasm is just what I needed!
I bet Veronica's really popular and probably the life of the party wherever she goes!
(That was MY attempt at witty sarcasm…)
I have a feeling she's the type of person who'd win the lottery and then piss & moan about having to pay taxes on it…
Us "non-feminists" have a technical term for people like you… it's "whiney bitch".
Or more properly: "feminist whiney bitch & Waaaaaactivist".
I apologize Veronica, I shouldn't have used the B-work…
Let's hook up… and I'll make everything better…
Then I'll write the sequel to Clarisse's book…
"Confessions of a Chubby Chaser: Wide Interviews with Hideous Women"…
And don't worry, the girl on the cover won't be "skinny"

It's casual,
Mack Tight
*-*-*-*-*
DETAILS ABOUT "CONFESSIONS OF A PICKUP ARTIST CHASER" FROM AMAZON:
There's an enormous subculture of men who trade tips, tricks, and tactics for seducing women. Within the last half-decade or so, these underground "pickup artists" have burst into the popular consciousness, aided by Neil Strauss's bestselling book "The Game" and VH1's hit reality show "The Pick-Up Artist." Some men in the seduction community are sleazy misogynists who want nothing more than power and control. Some are shy wallflowers who don't know how to say hi to a girl. The one thing they all have in common is a driving need to attract women.

Clarisse Thorn, a feminist S&M writer and activist, spent years researching these guys. She observed their discussions, watched them in action, and learned their strategies. By the end of it all, she'd given a lecture at a seduction convention and decided against becoming the next great dating coach. In "Confessions of a Pickup Artist Chaser," Clarisse tells the story of her time among these Casanovas, as well as her own unorthodox experiences with sex and relationships. She examines the conflicts and harmonies of feminism, pickup artistry, and the S&M community. Most of all, she deconstructs and reconstructs our views on sex, love, and ethics — and develops her own grand theory of the game.