Beware of dating service scams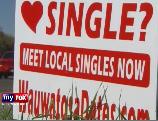 If you are wondering about a Vin DiCarlo Scam, click here for a revealing video that should help answer your questions about him…
Otherwise, on with this post

…
Every where I go I see signs along the side of the road advertising dating websites with the name of the suburb or city in the domain name. I always wondered what the deal was with these signs.
The Milwaukee Fox news did a special investigation exposing that it is just a big scam.
Apparently you go to the website on the signs and they ask you for your contact information. They then contact you and tell you to come to a dating service office in the area for an assessment.
Once you get there they take you into a back room and put on a high pressure sales pitch that lasts several hours. They make it hard for you to leave by using psychological manipulation. What they want you to do is sign a contract for a questionable dating service that costs several thousand dollars to join.
This isn't even a new scam, Fox did another investigation on the same company three years ago!
I cannot see anyone in the seduction community falling for this but I recommend you warning your friends, family and co-workers about it. I had one of my best friends from Florida fall for a similar dating service scam last year. I had to spend several hours over the phone giving him advice on how to get out of the contract properly within the three day grace period.
I would never use a local dating service, especially after watching these investigations. For a reliable online dating site I recommend that you Join Match.com.
I also recommend checking out David DeAngelo's ebook Double Your Dating if you are looking to increase your dating.