Dating Younger Women Advice: Key Understandings
If you're new here, you will want to sign up for my newsletter to get FREE dating ebooks and mp3s along with exclusive seduction tips and videos. Thanks for visiting!
Here's an article by Ross Jeffries regarding the fundamentals of dating younger women…
I think he brings up some good and honest points… the majority of younger women AREN'T open to dating older men, but a small percentage ARE…
And if you are persistent and go about it the right way, you'll eventually find an attractive younger woman who is into you…

Ross Jeffries is proof that it DOES happen…
———————
Succeed With Younger Women: Key Understandings
by Ross Jeffries
Dear Speed Seduction® Student,
Let's talk about younger women.
For a lot of guys who want to succeed with younger women, a lot of stuff goes on in their head…
"She's too young." "You're too old." "How could you have anything in common?" "May-December romances never work." "Shouldn't you be focused on 'age-appropriate' women?"
Up until the moment, maybe you thought it couldn't be done, that it's impossible to enjoy the attention and company of a younger woman. Social programming played a role too ("you dirty old man").
Some guys take the opposite and equally debilitating approach – the need to succeed with every one of them.
To successfully approach and seduce younger women requires that you do a few things differently.
First of all, don't compliment her on her looks. In other words, don't approach a younger woman with, "Oh my God. You're really beautiful."
DO be intriguing. The key is to intrigue and fascinate her. With a younger woman, the first step toward getting her body turned on is to get her curious and intrigued. It's rare that she'll get her body turned on and be aware of being aroused in her body the first time you talk to her. It's faster and easier to intrigue her.
Remember: this is SPEED Seduction®. Once you have her intrigued, leaning forward and really curious about the interaction, then start sexualizing.
Keep it outside of the dating framework. Don't say, "I'd like to take you out." Instead try, "Let's hang out. I don't have a lot of time, but I have a little bit of a window here. Let's hang out and I'll show you some cool things about how things work in your mind." Or something along those lines.
Create a space for yourself where you're totally, absolutely, fundamentally and deeply okay with the fact it's just not going to get anywhere with 4 out of 5 younger women. But that's fine. No older guy would get anywhere with them. It's not you.
You must understand: your numbers won't necessarily be as good. I guesstimate about 20% to 25% of young women are seriously open to an older guy. Here's the thing, though: when she's open, she's REALLY open.
You Have To Know Who Your "Market" Is
Your market (so to speak) is a younger woman who's really adventurous and already into her body. She knows there's a lot more she's missing about what she could experience, and a guy her age isn't going to give it to her.
She's unconventional in her thinking. She's willing to think for herself and likes to be challenged. At the same time, she's not a flake. She's honorable and shows up.
It's sort of like mining for gold or diamonds. When you find her, she's wonderful.
Is it worth the work? Absolutely.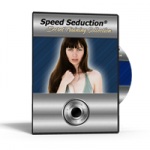 Peace and piece,
RJ
P.S. Among the 120+ laser-focused modules inside the Speed Seduction® Secret Training Collection you will find two modules – almost 30 minutes of teaching – on this subject alone.
Click here and claim your INSTANT access now!