David Shade releases "The Bring Out Her Inner Slut System"
David Shade is a "better sex" coach and is probably best known for his product called Give Women Wild Screaming Orgasms.
I'm fine with that product… what girl would not want to have a good orgasm?!?
Well, he is releasing a product to the public tomorrow called "The Bring Out Her Inner Slut System".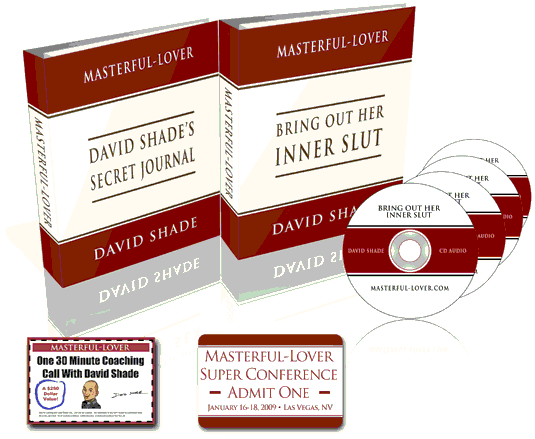 First things first, that has gotta be one of the most OBNOXIOUS names for a pickup community product EVER…
I don't like the use of the word "slut", "bitch", "whore", "ho", etc by any man for any reason, let alone inserted into a product name by someone affiliated in any manner with the seduction community.
I don't care if you are calling a girl a slut or just referencing some creative "slut" derivative that you dreamed up.
It makes us look bad and ultimately fuels last minute resistance and buyers remorse.
But anyway, here's his explanation of the program…
Tomorrow I'll be releasing the first copies of my latest program. (Up till now, only members of my VIP Inner Circle have it)

The Bring Out Her Inner Slut System

If you've ever wanted a foolproof way to access the wild, untamed-sexual-animal inside EVERY woman… this is your answer.

And it includes one of the most CONTROVERSIAL things I've EVER done.

David Shade's Secret Journal

You see, starting 2 1/2 years ago, I kept a secret journal of one of my relationships.

From day 1, I kept detailed records of exactly how I lead her from life as a bored housewife (marriage on the skids) to erotic escapades so kinky it would make a pornstar BLUSH.

It's all there, including where I got stuck and how I fixed things. What I said, What I did, and the results. I've even included the text messages I used to drive her crazy with passion when we were apart.

I've decided to include my Secret Journal as part of my New System, because it is (as one women put it) "A sexuality playbook for men"

To Celebrate The New Release Bonus Goodies!

To celebrate the release of my new system, I'm giving away tickets to the Masterful Lover Super Conference in Las Vegas (Jan 16-18 2009).

The first 50 people who grab a copy when it's released this Saturday, get a complimentary ticket! (Full price will be $997)

Also, this ticket allows you to bring your girlfriend/wife at no extra charge. I'll even buy her dinner on Saturday night.

Here's How This Works

If you're on the special announce list, you'll get an email tomorrow morning a little before 11 AM Eastern.

It will have the URL to grab your copy.

To be on the announce list, sign up by clicking here…

And while you are there, enjoy the video!

Give women incredible pleasure,

David Shade

P.S. I expect the 50 tickets to go fast. Be sure
you are ready at 11AM Eastern time.