David Wygant Date to Win Review
David Wygant has recently changed his site and with it he has changed several things about his low cost introductory package "Date to Win" including the book cover, bonuses and price.
Here's an overview of the differences…
The Date to Win ebook cover
At first I thought it was bizarre that these gurus would show pictures of what looked like real physical books, CDs and DVDs on the sales page when what you actually get is to downloaded ebooks, MP3s and video files. Now I just accept it because I am so used to it…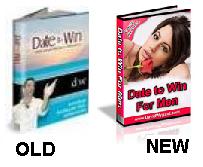 That being said, David Wygant changed the "virtual" cover of Date to Win from a picture of him from the torso up to a picture of a girl's face.
It looks like a basic "hot babe" picture taken directly from iStockPhoto. It now resembles the cover of any other generic seduction product out there.
I guess David finally has realized that sex sells…
Bonuses
David has added four additional audio bonuses to this package.
Before you used to get Date to Win, Meet Someone Today and the 1-on-1 coaching audio.
Now you get all those along with his Leave A Message, Dress To Impress, Double Your Options With Women and Don't Chase Women audio programs. Each has their own equally cheesy fake CD cover on his sales page.
Doesn't the "Double Your Options With Women" title seem to take aim at David DeAngelo's Double Your Dating?!? For those who don't know, I would consider The Two Davids to be the two most mainstream and basic introductory gurus in the male dating industry.
Price
With all the added bonuses the price did go up but only a few bucks to $37.97.
The "just a hair under $40″ seems to be the main price point for most of these introductory products so I can understand the raise in price. The four added bonuses can easily justify minor price increase.
My Opinions
I think Wygant puts together a sound reasonably priced introductory package for himself in a crowded market.
If you are new to the dating improvement scene and want to buy a reasonably priced product by one of the most "mainstream" gurus that's packed with extra bonuses, I think Date to Win is a perfect match for you.
From there you can move on to more niche and seduction-centric gurus as you see fit or stick with David and get his more thorough and comprehensive Men's Mastery Series.