David Wygant Girls Tell All Review
If you're new here, you will want to sign up for my newsletter to get FREE dating ebooks and mp3s along with exclusive seduction tips and videos. Thanks for visiting!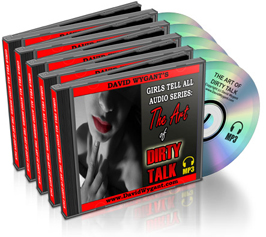 Girls Tell All is an audio program by dating coach David Wygant…
In this 7 hour program David talks to four different women about the following topics…
* Secrets Of Sex
* The Secrets Of Pickup
* The Art of Dirty Talk
* How To Flirt & Storytell
* Online Dating Secrets
Each part of Girls Tell All can be purchased separately or all-together at a discounted price…
Most people are either a fan of David Wygant or they are not…
If you are reading this I can only assume you are a fan…
If I was a fan, Girls Tell All would be the product that I would be the most eager to get because not only do you get his opinions but you also get the input of four women…
I know… I know… sometimes products where where guys interview women can be completely hit or miss…
Sometimes the guys ask too many soft questions to the women…
Sometimes they let the women go off on tangents that are irrelevant to the listener…
Do you think David Wygant has what it takes to milk valuable information from these girls?!?
Of what I have seen, David has never been shy or timid…
And if you aren't satisfied, he offers a 90 day money back guarantee for David Wygant Girls Tell All…