David Wygant Live Infield Pick Up Video and Breakdown
David Wygant is a dating coach and author of Date to Win.
Here's a video of him opening a girl with a simple opinion opener…
Let me throw in my two cents before I give you the video of David's breakdown…
I have to give David credit for not having a "gay voice" like many gurus infield and for being good at vibing with the women.
The dude with the "Big penis!" shirt seemed a bit vanilla for rocking such an obnoxious shirt…
Overall the video served its purpose in showing guys how easy it is to open a woman and how generally they are quite receptive to what you have to say if you use the right openers.
My only problem with this interaction was that I felt David stuck with the opener too long and it got a bit old toward the end.
What about yellow? … What about orange? … What about pink? … What about burnt sienna? …
The opener did its job and opened the door…
I would have liked to seen him step through it rather than stand at the doorway looking in.
Shift gears and transition away from it onto something more personal and start building attraction.
David likes to tell guys to be "goofy".
I really don't like that advice… it reminds me of a jester trying to entertain the king.
I think it is more about talking to girls about things that you both find interesting…
It is about being confident and comfortable when you do it.
This will allow you to be more witty and reactive to what they say…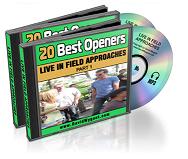 That will make you a more enjoyable person to talk to and more attractive.
If you would like to learn more from David Wygant on how to meet women, I recommend checking out his 20 Ways to Meet Hotter Women program.
It includes four hours of material along with five bonuses including David's 20 best openers with live infield approaches.