David Wygant on MTV Made (video)
David Wygant is a dating coach and author of Date to Win.
Back in September of 2003 he was in the first episode of the third season of MTV Made.
If you are unfamiliar with the show here's a description of how it works…
MTV's MADE is a self-improvement reality television series that follows teens who wish to be "made" into singers, athletes, dancers, skateboarders, etc. The teens are joined by a "Made Coach", an expert in their chosen field, who try to help them attain their goals over the course of several weeks.
David was a "Made Coach" who helped turn a college nerd into a "Ladies Man".
Here's the description of the episode…
Nerdy Tony wants to become a Ladies Man on the campus of LSU. Can this nerd go from geek to chic? Tony has been made fun of all his life, but a makeover (which included shaving his unibrow), a list of things to do to become a ladies man, and a MADE Coach can change everything. Can Tony handle three dates in one night, make friends, and finally find a girlfriend?
Here' the trailer for the episode…
Click here to watch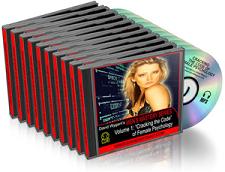 Tony seems like the Michael Jordan of chumps!
I have yet to see the full episode.
Has anyone seen it? What happens?
Anyhow, if you want to get "Made" into a Ladies Man with David Wygant's guidance, I suggest his Men's Mastery Series…
It is the most comprehensive program that he offers and includes 10 volumes with over 13 hours of material where he teaches you everything that he knows.
To put the icing on the cake there are 5 additional bonuses that dive in further regarding topics like online seduction and relationship management…
Click here to find out more about David Wygant's Mastery program now…