David Wygant meets Tree Man
If you're new here, you will want to sign up for my newsletter to get FREE dating ebooks and mp3s along with exclusive seduction tips and videos. Thanks for visiting!
You need to watch this video before I even say anything…
WOW… That was awesome!
David Wygant calls this video "How To Use Live Props To Start Conversations With Women On The Street"…
I call it "proof that peacocking works"…
That costume makes Mystery's fuzzy hat and black fingernails look like a polo shirt and khakis…
I need to get me one of those Swamp Thing costumes!
He just walked around and hot women were fascinated by him. They even gave him money!
After that he just walked off while they sat there rubberneckin' at him.
I know peacocking gets a bad rap nowadays and obviously this video takes it to an extreme…
But what he wore got women to stop what they were doing and give him their immediate attention…
What more could you ask for?!?
He used that attention to publicize his characters and to get tips…
You could use that attention to create attraction and get her number…
Stand out from the masses! Get noticed!
Learning how to cold approach well is a must but also adding some peacocking can supplement your game.
It will more than likely get a few women approaching YOU…
What do you have to lose?
If you want to find out more about Tree Man, I guess he's a regular Hollywood street performer who walks on stilts. He also walks around in another metal costume where he calls himself "Tin".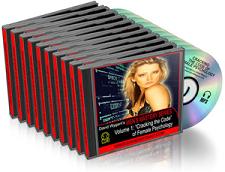 I checked out the movie Hancock and he is in the tornado scene in his "Tin" costume for a few seconds…
So that means David Wygant is the self-proclaimed inspiration for a Will Smith movie while "Tin" was actually IN a Will Smith movie…
If you like David Wygant and want to learn more from him, I suggest his Men's Master audio series. It is the most comprehensive program that he offers with over 13 hours of material.
Click here to find out more about David Wygant's Mastery program now…