David Wygant's Sex With The Masters
Oh my…
Now even DAVID WYGANT has a "Give Girls Wild, Screaming, Squirting Orgasms" product!
It's called "Sex With The Masters"…
For the record, I don't have an issue with products like this per se… they have their need and place.
BUT, I have a feeling I'll have some reservations about David's MARKETING of this product…
…lets see if I'm right:
The sales page is full of pictures of good looking couples in soft-core erotic poses… like in those ads for the "Better Sex" videos you see in the back of Maxim magazine…
OK… sex sells and it seems appropriate for a "better sex" product so I give it a pass…
Next, here's a sample of the text on the sales page for David Wygant's Sex With The Masters…
Want To Know What REALLY Triggers Women To Have Earth-Shattering, Mind-Blowing Orgasms? Don't Take My Word For It … It's All Captured Here LIVE!

Listen In As One Of The World's Foremost Sex and Intimacy Experts Lets You Into His Own Bedroom And Allows You To Hear — LIVE, RAW, UNCUT AND UNCENSORED — As He Creates Orgasm After Orgasm With His Lover…

…Then Reveals Step-By-Step How YOU Can Recreate This In YOUR Own Bedroom…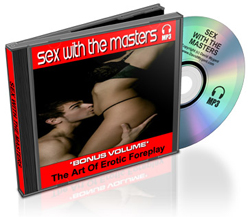 WHAT?! So this is just an AUDIO program?
Do I really want to just HEAR some girl have an orgasm?
Am I supposed to be able to LEARN something from that?
I have a feeling it will be like watching porn wearing a blindfold… a complete waste of my time!
I mean, wouldn't this be more "productive" as a learning tool if it was a VIDEO?
Here's another concern of mine…
I've searched through the entire sales page and I can't find where he actually says the name of the "EXPERT"…
Who's these "MASTERS"?!
I WANT NAMES DAMMIT!!!
I find this particularly ironic when on the same sales page it says…
…There are not too many folks out there (especially too many of the so-called "experts" out there) who would feel confident enough to record themselves LIVE, raw, uncut and uncensored….
So David is talking shit about "so-called experts" while he is 'so-calling' the guy on this audio an "expert"?!
And why would any "expert" have an issue recording audio of themselves?! I think they MAY have reservations being videoed naked having sex but THIS PRODUCT is ONLY an audio product… his point is totally MOOT!
Sometimes David's marketing makes about as much sense as the Pet Rock…
…but like the Pet Rock: if it sells, who am I to judge?
If you want to hear David's "expert" teach you sex and kissing techniques and his "masters" have orgasms together, be my guess and check it out…
…but I'd PASS!
I'd stick with David Shade.