Day game and coffee shops
I like to go for walks in different directions from my apartment.  I burn a few calories and have time to think or listen to audio material with my iPod.  Each time I walk I take a different route and stop at any interesting bars, shops or restaurants along the way.  It is surprising how many interesting places there are within a two mile radius of where you live that you didn't even know existed.
Last night I found a sports bar that is about a mile from my apartment that I'm going to check out during Sunday's Packer football game.  I also walked by a half-complete Starbucks less than a mile of my apartment.  I'm not big on day game but maybe having a Starbucks right next to me will give me the push I need to get my day game on track.
Inspired by David DeAngelo Double Your Dating recommendations of picking up women and hired guns at Starbucks, I've half-assed tried to run day game at coffee shops in the past but have had issues such as:
I have no issue paying $5 for a beer but $2 for a cup of coffee is bullshit
I work days and do not want to drink coffee at night or drink unleaded
The 'hired guns' at my local coffee shops are usually moppy headed douche bag teenage guys, Milwaukee is not L.A. where there are hot starving actress-wannabes working at every corner Coffee Bean and Denny's
Usually when I go to these places they are empty or full of losers.  Hot girls just do not loiter around these places drinking coffee and messing around with their laptop or reading books.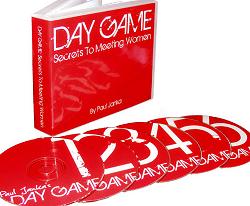 I think I should start traveling the distance to coffee shops in better locations such as I do with bars and clubs.   It makes more sense driving 25 miles to go to a coffee shop by a university that is full of women than to go to an empty one a mile from your house and wait hours for a half way decent girl to show up from a pick up standpoint.  I guess I may be jumping the gun a bit considering that the Starbucks by me isn't even done being built yet.
Next week I am going to work on day game and try out different venues.  I'll keep you all informed on the outcome.
If you want to learn how to pick up girls during the day, I suggest getting Paul Janka's "Day Game: Secrets to Meeting Women" audio program. Order your copy by clicking here…

You can also get his super popular Attraction Formula ebook by clicking here…