Daytime Dating Review - Never Sleep Alone Ebook by Jeremy Soul
If you're new here, you will want to sign up for my newsletter to get FREE dating ebooks and mp3s along with exclusive seduction tips and videos. Thanks for visiting!
Daytime Dating: Never Sleep Alone is a new ebook released today by Jeremy Soul of Love Systems…
This book focuses on picking up girls during the day (AKA "daygame")…
Click Here To Check It Out Now…
Jeremy Soul has been teaching daytime dating for a while… so I was eager to check out this new ebook of his…
Luckily, the guys over at Love Systems sent me a review copy of Daytime Dating earlier this week…
That allowed me enough time to make a Daytime Dating review for you today…
Daytime Dating Review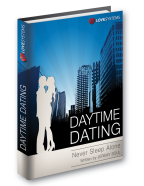 I've found that when Love Systems makes an ebook about a topic… they tend to take their time & do it right…
I think Jeremy Soul's Daytime Dating ebook follows that trend…
It gives you a lot of great content for your money…
It's 164 pages long… which is HUGE for an ebook…
And there's no "giant fonts" or random pictures of half-naked girls for filler
(although there ARE some unnecessary pages of product promotions & testimonials towards the end of the book…)
The pictures are limited to visual models and valuable diagrams for easier understanding…
As far as the content, Daytime Dating totally breaks down daygame for you…
Jeremy Soul does a good job of breaking down logistics… strategies… where to go… how to approach… what to say…
And a lot more…
It's very specific and structured… which I like…
If you're looking to get out of the obnoxious night time club scene… and transition to the more relaxed and untapped daytime pickup scene…
Daytime Dating is a good choice for you…
Jeremy Soul's Daytime Dating vs. Sinn's Day Game Mastery From A To Z
I'm a HUGE fan of Sinn's Day Game Mastery course…
But trying to compare these two daygame products is like trying to compare a Porsche with a Hyundai…
Sinn's program costs several hundred dollars…
While this ebook is merely a small fraction of that price…
So if money is an issue, you might want to get this Daytime Dating ebook… read it… and if you want to learn more about daygame - get Sinn's program…
Then again, Daytime Dating might possibly teach you all you need to know about daygame on its own…
Get your copy here (money back guarantee)…
Save 20% with this Daytime Dating Discount!
Speaking of money, you can save 20% RIGHT NOW on Daytime Dating by purchasing it through this link (no discount code needed, just click it):
I know money is tight, so I love discounts like this for my readers…
Unfortunately, this 20% discount is only good for one week, so take advantage of it while you can…
On top of this discount, there's a 30-Day 100% Money Back Guarantee…
So there you go… little to lose, a lot to gain…
This is a no-brainer for anyone looking to learn daygame…