Derek Vitalio: Are your friends holding you back?
Derek Vitalio is a pickup guru best known for his company Seduction Science and his products Get The Girlfriend and the more recent Blissnosis.
Here's a video of Derek describing how your friends will likely react to your increased success with women…
I really agree with the statements he makes at the end…
When I got into the seduction community I tried to push all my seduction stuff upon my friends.
I used to coach and lecture them about their problems unsolicited.
They quickly started to hate me!!!
Don't let your friends discourage you or bring you down but also don't shove your new found knowledge down their throats either.
It is often hard to bite your tongue but you need to realize that there is often no benefit for you to open it.
You're often going to get uncomfortable confrontations rather than positive changes if they are not open to constructive criticism.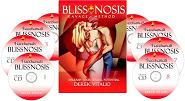 My rule is that unless someone asks for my opinion and the circumstance doesn't affect me directly, I don't give my opinion.
Derek Vitalio recently released a program called Blissnosis.
Blissnosis teaches you how to be a sexually powerful man that attracts women.
Click here to get the audio and ebook…
Click here to get only the ebook…