Destroy Approach Anxiety With THIS Easy Opener…
If you're new here, you will want to sign up for my newsletter to get FREE dating ebooks and mp3s along with exclusive seduction tips and videos. Thanks for visiting!
You've probably heard of Brad Jackson and his PUMA Skills program…
Basically he teaches guys how to use magic to pick up women…
For a while now he's been hyping up an opener he created that is supposed to be a fool-proof technique to approach women and get a great response…
He calls it the "Hiroshima Opener"…
Apparently it is so easy and the response is so good that it will eliminate all approach anxiety that you may have…
He would only reveal the Hiroshima Opener to those who bought his PUMA Skills Mastery Course… UNTIL NOW!
He has released a free video exposing the complete opener to all… Watch it by clicking here…
In addition, at the end of the video he gives a link where you can download his PUMA Skills Mastery Course for FREE and try it out for 7 days…
I don't know if I'm supposed to do this, but I'm going to save you a lengthy sales pitch toward the end of the video by just giving you the link right now:
http://www.pumaskills.com/freetrial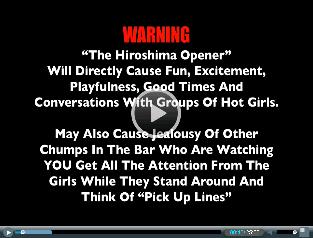 Watch The Video… Get Your Free 7-Day Trial…
And have a great weekend!