Don't Get Cockblocked By A Text Message!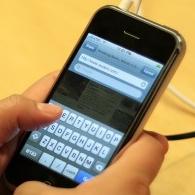 A while back, I got a phone call from a friend…
He met a girl at a club who was really into him…
After texting with her over the course of a week… he received this text message:
"I've got a boyfriend. U need to stop contacting me."
He was really pissed off…
I said "pump your brakes son… something's fishy…"
You're more likely to just stop getting messages ENTIRELY rather than a message like that…
It seemed like an "orbiter" might have got her phone and sent the message to cockblock…
He should CALL HER to find out what the deal was….
("orbiter" is an old PUA term for a guy friend who wants to f*ck the female friend, but is stuck in the "friend zone")
Instead of doing what I said… he started making excuses of how he didn't care about the girl any way and how she would have only been a piece of ass…
BLAH… BLAH… BLAH….
Don't feed me soup bro!
NUMBER 1 - DO WHAT I SAY!
NUMBER 2 - You spent a week TRYING to get in her pants… why not make the 5-minute call?
NUMBER 3 - If you "don't care"… why are you SO PISSED OFF?
NUMBER 4 - DO WHAT I F**KING SAY DAMMMIT!
When it comes to women, it's amazing how much effort men will exert to convince themselves to take NO ACTION…
Stop shooting yourself in the foot!
A week later, I get another phone call from him…
(NOTE: he seems to have NO PROBLEM calling ME about the matter, yet he can't call HER about it?)
Apparently he got a text from her apologizing for the message…
And sure enough, some guy got a hold of her phone and sent it to cockblock…
Even after that, my friend STILL didn't want to go after this girl…
This is where I lost my cool…
He MUST tap this girl's ass to send a message to the cockblocking s.o.b.!
You can't let cockblockers get away with it or else they'll start multiplying like rabbits…
He must tear that p*ssy up…
No excuses!
The moral of the story is… if you LET yourself get cockblocked, you DESERVE it!
And stop making bullsh*t excuses to justify being a lazy f*ck…
If you have a female friend, classmate or co-worker that you want to f*ck…
Cockblocking is NOT the answer!!
Go download this free report instead…
It'll teach you how to shift her perception of you from a "friend" to a guy she wants to f*ck…
YOU'LL be the guy tearing that p*ssy up…
It's casual,
Mack Tight