Download Brad P Interview FREE
If you're new here, you will want to sign up for my newsletter to get FREE dating ebooks and mp3s along with exclusive seduction tips and videos. Thanks for visiting!
Brad P was unanimously chosen as the #1 PUA of 2008 by every blogger who created a top ten PUA list.
This was no surprise to me…
I discovered the greatness of Brad P back in March…
I immediately wanted to promote him on this blog but it was hard because there weren't any videos or articles of him available…
Regardless, I tried in April by basically just vouching for him in a PUA spotlight post…
People had to take my word without being able to hear him or get a taste of his material.
In May things fell into place… I was able to land an exclusive interview with him…
I kept him on the phone as long as possible and asked him every inane question that came to mind…
The interview came out great… but it was so time consuming that I swore off audio interviews ever since… even though I've had several offers by popular gurus…
I put a lot of work into it… Brad put a lot of work in it… so I want it to be HEARD!!!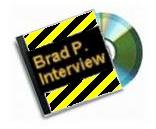 So I turned this 40 minute interview into an MP3, zipped it up and want to give it to you FREE…
But I also know how popular he is now and do not want all my monthly allotment of bandwidth consumed…
So I came up with the perfect compromise…
You just need to sign up for my newsletter and you'll get it right away…
I won't send you six emails a day like some of these "marketers"… maybe just one or two per week…
No spam or BS… You can unsubscribe at any time…
I'll also throw in two free ebooks, one about getting better with women and another about achieving a better body…
So don't delay… click here to sign up right now and start learning from the #1 PUA of '08 immediately…