Download Sinn's FREE Seminar MP3
If you're new here, you will want to sign up for my newsletter to get FREE dating ebooks and mp3s along with exclusive seduction tips and videos. Thanks for visiting!
Sinn put on a teleseminar Thursday & Saturday about turning regular conversations with women into "sizzling hot encounters"…
I listened to it Thursday night, and I thought it was really good with a lot of great solid content about building sexual attraction with women…
If you missed both of the teleseminars… YOU'RE IN LUCK!!!
Sinn recorded it and you can download the FREE MP3…
Also, it sounds like Sinn's closing the doors on his Seduction Roadmap system Tuesday night at Midnight…
So that means you should get your copy NOW…
Get your copy before it's GONE…
If you get your copy through this link and join my newsletter… I'll send you a FREE Sinn's Anti-Flaking, Phone & Text Game audio…
It's a one hour interview I did with Sinn where he exposes his best text & phone game secrets…
You can ONLY get it here… just get your copy of Sinn's system, join my newsletter, and reply to one of my newsletters with your name… and it's YOURS!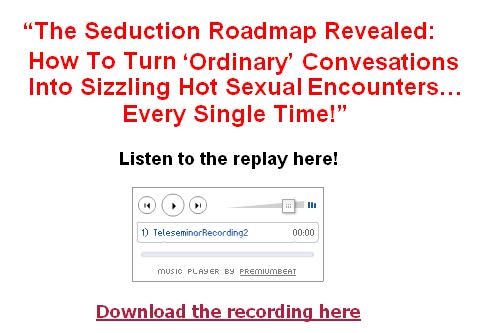 PS: You don't have to sign up or anything to download Sinn's FREE seminar…
Just click here NOW to download it IMMEDIATELY…