eSeduce Babe of the Week: Bea Arthur
If you're new here, you will want to sign up for my newsletter to get FREE dating ebooks and mp3s along with exclusive seduction tips and videos. Thanks for visiting!
This was an April's Fools post.
Mack loves watching Gossip Girl, Designing Women, Dr. Quinn Medicine Woman and Sex in the City but his one true favorite show is The Golden Girls.
What a ragtag bunch of spunky GGILFs they are!
You have Rose the ditz, Blanche the slut, Sophia as the sassy girl but my favorite was the sexy and sensible Dorothy played by Beatrice Arthur. Oh how Mack would like to break her hips making her knees touch her elbows!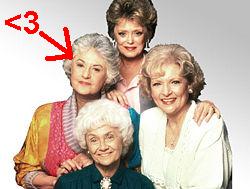 Mack is always vocal how he loves older women and Bea is as old as they get. She is like a fine bottle of aged wine. She is the queen of cougars!
Mack has heard that there is a potential sex tape of Bea with Larry King that may be released. Mack Tight is drooling like a donkey just thinking about it. Mack Tight may have to go into the bathroom and rub one out!
Just say the word Bea and Mack will pick you up on Sunday in his '78 Cadillac blasting Lawrence Welk and we'll cruise down to the casino going 5 MPH zigzagging down the center of two lanes. We'll go back to your old folks home, Mack will stop at Ross's room and say "hi" and then Mack will hide your Polident to guarantee awesome fellatio without the rake dick.
I bet you thought I couldn't top the hotness of last weeks babe Rosie O'Donnell but some how Mack did it!