FREE CD! - Dating Success Coaching Sessions by Tyler Tray
If you're new here, you will want to sign up for my newsletter to get FREE dating ebooks and mp3s along with exclusive seduction tips and videos. Thanks for visiting!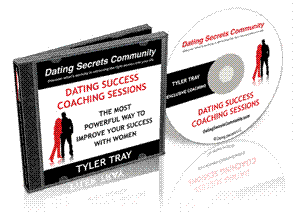 Tyler Tray is the author of "The Ultimate Texting Guide…
If you missed his webinar last night on "The 3 Biggest Mistakes
Men Make With Women & How To Fix These Common Problems"…
DON'T WORRY!
Tyler recorded it and you can watch it FREE right now:
Tyler's is also giving away 1000 FREE CDs of
his Dating Success Coaching Sessions…
It's a *REAL* physical CD that's actually MAILED to you…
And there's STILL some left up for grabs RIGHT NOW….
He'll tell you how to get the free cd at the end of the webinar…
Oh yeah… he's also giving away a free month access to his
Dating Secrets Community along with the FREE CD, along with several other bonuses…
Can't beat that!
P.S. Is it just me or does Tyler sound like he smokes six packs
of cigarettes a day?