FREE Sean Nalewanyj Fitness Ebooks for my Newsletter Subscribers!
Thank You for being an eSeduce Newsletter subscriber!
Here's the two FREE Sean Nalewanyj fitness ebooks: "8 Things You Must Do To Build Maximum Muscle" and "Fat Burning Fairy Tales - The Top 12 Fat Loss Myths Exposed!"…
REMEMBER… THERE ARE STILL MORE FREE ebooks, MP3s, and videos TO COME!!!

I'll keep sending you FREE stuff in future newsletters as long as you stay subscribed…

If you make the mistake of unsubscribing… you are going to miss out!
You can download the free ebooks in a zip file by right-clicking on the link or image below and choosing "save"… just unzip the file and the ebooks will be unpacked as PDF files:
Download Sean's 2 Free Fitness Ebooks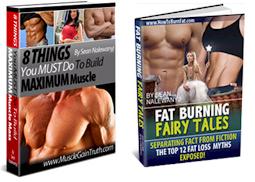 Take a minute and check out Sean's site for more fitness advice…