Free Seduction Podcast with Bobby Rio
If you're new here, you will want to sign up for my newsletter to get FREE dating ebooks and mp3s along with exclusive seduction tips and videos. Thanks for visiting!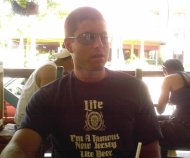 This past Spring, Bobby Rio, author of Conversation Escalation - Make Small Talk Sexy, asked me if I wanted to set in on a podcast with him.
Bobby is easily one of the coolest guys in this seduction niche. He's a no bullshit, straight shooter and an all around fun guy. Obviously, I was honored to be asked by him.
Basically, Bobby had an outline regarding the topic "How to Overcome the Biggest Dating and Pickup Mistakes". He went over the outline and I chimed in with my 2 cents from time to time.
Beyond the great content, some other highlights are…
- Bobby's soggy experiences trying to join the "mile high club"
- Me bashing "bathroom pulls"
- We reveal what we both got for Xmas last year from Savoy of Love Systems
- Bobby fucks a fatty and uses it for "social proof"
For being one of my first such interviews, I think it went quite well. Most of that is credited to Bobby.
I do wish I would have talked about social anxiety. I now believe that's the number one reason why guys aren't getting out there and meeting women. Oh well…
Before you download it, I'll give you some quick behind-the-scenes dirt…
On the download page, Bobby wrote:
If the podcast seems to end suddenly at the two hour mark- its because the last hour of the podcast was not recorded at the same level of quality.
The truth is that the "quality" was hindered by the large amount of Scotch and beer we drank during the interview!
Bobby never sent me the last hour but I guess we were totally incohesive by that point. He's probably holding on to it so he can blackmail me with it sometime in the future!

Also, make sure you Check Out Bobby's new program By Clicking Here…