Fuckable Style vs Conformist Fashion
Hey guys… here's an article by PUA and fashion guru Brad P…
In it, he gives a brief intro on the difference between casual fashion and style that turns women on…
He uses some naughty words… so if you are easily offended, turn off your computer and go watch Oprah

(Make sure to check out Brad's Special Discount Deal when you're done reading the article…)
——————
Hi it's Brad P.
There's many great looks out there. Many guys
have great fashion. But not every great style
is a "fuckable style."
While women can recognize a guy with great
style, it doesn't always lead to a sexual
response.
I'm trying to teach you how to create a style
for yourself that will get women to become
sexually attracted to you, in a way that
makes them want to have sex very quickly…like
the first or second day you meet them.
I don't teach conformist fashion. I teach
fuckable fashion. There's a huge difference.
Conformist fashion is a look that you want
for your first day on a new job, so everyone
you meet will say "Well, that new guy seems
pretty solid to me."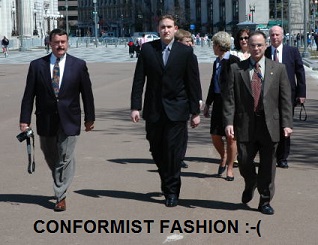 Fuckable fashion is a style that you use to
get laid. Some people will like you, some
people won't. Some people won't even notice
or care what you look like, but horny women
who are in the market for someone to fuck
them will notice you.
See the difference?
OK now if it's fuckable fashion you're after,
keep reading.
There's a secret loophole in the female
brain, and I'm going to tell you how it
works.
If you can learn to exploit this loophole,
like I have, you can get a lot of awesome
sex, get a girlfriend, or get multiple
girlfriends.
I call this loophole "sexy stereotypes."
When a girl is in her teenage years, she
forms an opinion on what "types" of guys are
sexy. Once she has formed that opinion, it is
hard wired into her brain forever.
She forms this opinion based on a few things-
- what she sees in movies, TV, and music. -
what her friends consider sexy. - the first
batch of guys who give her a positive sexual
experience.
Once she has solidified her idea of what
"type" is the right type to fuck fast, she
will take that idea with her into her 20s,
30s, and 40s.
If you fit that "type," she will
automatically think it's a good idea to have
sex with you, before you even talk to her at
all.
Make sense?
So what are the sexy stereotypes?
Tune in to my next guest article, and I'll tell
you exactly what types women look for.
-Brad P.
PS- I like to give discounts to guys who read
my articles. Here's another one. Get
my Fashion Bible using this link and I'll
give you 4 of my other programs for FREE.
It's over 100 pages of my best fashion
advice and sells for $67, but now you
can get $497 worth of my other programs
for FREE when you Use this link.