Gabrielle Moore NAKED U Boobgasm Edition REVIEW - Naked University 6
If you're new here, you will want to sign up for my newsletter to get FREE dating ebooks and mp3s along with exclusive seduction tips and videos. Thanks for visiting!
Gabrielle Moore is a sex expert with a new edition of her "Naked University" program called Naked U Boobgasm Edition. This is the 6th edition of her "Naked U". In it, she teaches guys how to use breast foreplay to make a girl orgasm.
You can watch her video about it here.
Is Gabrielle Moore Naked U Boobgasms a scam? Is it worth getting?
Here's my quick Gabrielle Moore Naked U Boobgasm Edition review.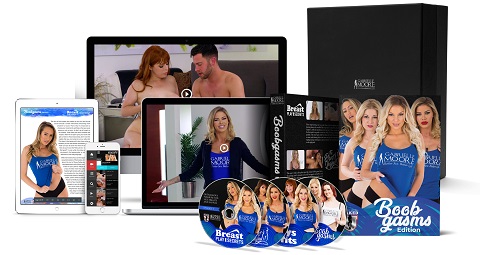 Gabrielle Moore Naked U Boobgasm Edition Review - Introduction.
This program includes 5 videos that's about a half hour long each. Each video also includes a corresponding ebook with pictures. You are forced to read the ebooks in your browser but it works good. You are allowed to print the ebooks though. Each one is around 40 pages. The videos include graphic sex and the PDF includes nudity and sexually explicit scenes.
Each video includes a female presenter who describes the techniques. You can see them all here.
Throughout the video, the presenter gradually strips off her clothes. She eventually gets naked and remains naked throughout. There's a separate couple who are naked on a bed and demonstrate the techniques as the presenter describes them.
Gabrielle Moore Naked U Boobgasm Edition Review - What's Inside.
The program focuses on techniques to pleasure your female partner by stimulating her breasts.
The program consists of 5 videos/ebooks and also a 6th ebook. Those include:
- Breast Play Secrets
Outrageous Pleasure For Her Breasts And Nipples

- The Breast Vagina Fusion Formula
Combining The Power Of Breasts And Vaginal Sex To Give Her The Ultimate Pleasure

- Toys For Tits
Sex Toy Secrets For The Ultimate Boobgasm

- Flesh On Flesh
The Body-To-Body Massage Technique That Gets Her Wet & Wild

- Boobgasms
Secret Techniques To Awaken Her Breasts Orgasmic Potential

- Breast Sex Ever
A Guid To Mastering Breast-Play For His Or Her Pleasure
Check out this video for all the techniques and positions explained.
Gabrielle Moore's Naked U 6 Boobgasm Edition program has 3 different purchasing options at the time of this review. The cheapest option includes digital access. The middle priced option includes digital and physical DVDs. The highest priced option includes all Naked U6 (digital & DVDs) and also the 5 previous Naked U editions also.
Gabrielle Moore Naked U6 Boobgasm Edition Review - Conclusion.
Gabrielle has a lot of sex advice programs. If you purchased one, you know what to expect. This one doesn't stray from her normal formula.
You're going to get sex advice and it's going to be presented to you and demonstrated by hot naked adult film stars.
I think the subject of this program is interesting. The word "boobgasm" makes me snicker. I know the female breast/nipples are a pleasure point. Learning techniques on how to stimulate those pleasure points is bound to lead to better sex.
This program is high quality like any of Gabrielle's other programs. The price is relatively high, but there's a good amount of content for the money.
I do want to warn you that Gabrielle typically stops selling her programs after a short "launch" period. The programs are available for 7 to 10 days and then are not made available to purchase for some time. Often you have to wait many months, if not longer, for her to offer the program for sale again. It's kind of a pain in the ass to be honest.
Like all of Gabrielle's programs, there's also a 60 day money back guarantee.
I give it 4 stars out of 5. Naked U6 is quite good for its intended target: men seeking to become better in bed.

Watch her promotional video here.
or.
I hope you enjoyed my Gabrielle Moore Naked U Boobgasm Edition review. Send me any questions. Leave your comments or give your own Gabrielle Moore Naked U Boobgasm Edition review below. Thanks for reading!
It's casual,
Mack Tight
P.S. - Here's a picture from Gabrielle Moore Naked U Boobgasm Edition of my favorite female presenter. What do you think of her? I like!