The Gentleman's Guide to Online Dating Review - Love Systems Cajun PUA new book
If you're new here, you will want to sign up for my newsletter to get FREE dating ebooks and mp3s along with exclusive seduction tips and videos. Thanks for visiting!
Love Systems instructor Derek Cajun PUA just released his new book called "The Gentleman's Guide to Online Dating"…
You can get your copy or learn more about it at his site here…
I liked Cajun on Keys To The VIP 4 years ago… and online dating intrigues me, so I was anxious to read the review copy sent to me…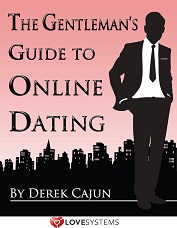 So is GGOD something worth picking up? Or should Cajun stick to talking about Kool-Aid to girls in night clubs?
Here's my Gentleman's Guide to Online Dating review… if you don't like reading, check out my video review below…
>>> The Basics <<<
Topics covered…
* online dating advice for men
* Facebook profile advice
* phone and text game (brief)
* online chatting & emailing tips
Cost: $47
Main Program: 125 page PDF ebook
Bonuses: 4 early bird bonuses, including Love Systems Audio Interview Series #60 about Online Dating
>>> My Opinions <<<
I never knew Cajun was the designated online dating expert over at Love Systems headquarters, but I was interested in his spin on it all…
Here's my 3 beefs (the things I didn't like) and 3 bumps (the things I did like) about the program…
Beefs:
1.) Few pictures and no videos
- a screen capture video or picture of his profiles would be nice. His Facebook profile is shown in the promotional video for the ebook, so why not add a video where he scrolls through it all?
2.) No real unique online dating site advice
- when I started using different dating sites, I quickly learned there's unique features and tips for each one (i.e. Plenty of Fish, Match, OKCupid, etc). Cajun seems to lump them all together and not get into specifics.
3.) Unneeded instructor and product cross-promotions
- there's chapters added to this book that seem to be just thrown in there to promote another Love Systems instructor or product. They seem redundant, unnecessary and I'd rather have Cajun give advice on the topics if they are really needed.
Bumps:
1.) Cajun's humorous, eccentric message and profile advice
- if you liked Cajun's wit on Keys to The VIP, you'll love this book. A lot of these other PUA online dating programs give boring, "stiff" advice. Cajun doesn't hold back with kooky future adventure projections and other advice that is fun to read and use…
2.) The Low Price ($47)
- Most of Love Systems prior ebooks went for $97… which I thought was rather steep. This lower price makes it more desirable.
3.) The 4 Bonuses
- They dropped the price and added bonuses, win-win! I especially like the LS interview series free bonus, it would normally cost $39 by itself…
Conclusion
Cajun knows what he's talking about regarding online dating… and his examples are sure to get a positive response from women…
Taking the price and bonuses into consideration, I think buying this is a "no-brainer"…
There's also a 30 day money back guarantee to give you piece of mind…
I recommend getting your copy here…
They claim the 4 free bonuses are going to be removed soon, so I'd get my copy now if I was you…
Also, there's several free videos on the sales page to watch… if you click around you'll find the full Keys to VIP episode, Cajun's appearance on WGN news, and "3 online dating tips" video…
Watch the free videos and get your copy of it here…
I also made a video review where I show the INSIDE of the ebook, you can watch it below:
http://eseduce.com/gg
P.S. - I just wondered, what's up with the title "The Gentleman's Guide to Online Dating"? It just sounds so quaint, wholesome and old fashioned

It's casual,
Mack Tight