Get Flirt Mastery Preview Ebook FREE!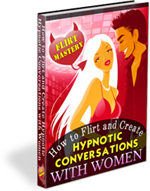 My friend Steve Scott just sent me a 90-page preview copy of his popular new ebook "Flirt Mastery" to give to my loyal blog readers…
Nope, that wasn't a mistake… it's 90-FREAKIN'-PAGES LONG!!!
So if you are already subscribed to my newsletter, don't worry… check your email this Friday (May 1st) for the download link in my newsletter!
If you aren't yet subscribed, there's still hope for you…
Just sign up RIGHT NOW for my mailing list and you'll get it along with the rest of my subscribers.
In fact, you'll also get 4 more freebies INSTANTLY including…
- my 40-minute long Brad P. Interview MP3
- "The Facebook Pickup Method" ebook by Derek Lamont
- "The Adonis Effect: Weapons of Mass Influence Volume 1: Physique as a Weapon" ebook
- "The Real Secrets for Getting Good with Women" Special Report

On top of all that, you'll get at least one new free ebook every month as long as you stay subscribed…
This is all in addition to the newsletters you'll get each week with seduction news and dating tips…
So sign up below and don't miss out…
While you are at it, I also recommend signing up for blog updates. If you know what a "feed" is, you can have it added to your feed reader of choice or My Yahoo… Otherwise you can have the blog updates emailed to you.
It is all free and you can unsubscribe at any time (although I highly doubt you will want to)…
Oh yeah, your information stays private and you won't be spammed!