Get Mark Belmont's "6 Steps To Looking Great" Ebook FREE!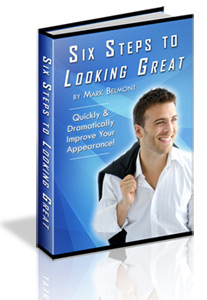 I've just added Mark Belmont's new 27-page ebook "6 Steps To Looking Great" as my 8TH FREE bonus to anyone who subscribes to my pickup newsletter…
In it, he gives you 6 easy ways to improve your looks and start attracting more women INSTANTLY…
In addition, you'll also get the following ebooks:
* The Facebook Pickup Method
* M.A.C.K. Tactics S.W.A.T. Guide
* Magic Bullets Sample Pack
* Flirt Mastery 75-page preview
* The Adonis Effect: Weapons of Mass Influence.
* How To Get Really Good With Girls
Oh yeah, you also get…
* My EXCLUSIVE 45-minute 1-on-1 audio interview with Brad P, the #1 PUA of 2008!

Sign up below and I'll send you this ebook along with a bunch of others…
From time-to-time I'll send you additional ebooks and newsletters packed with seduction tips and happenings…
It's totally free, private and you can unsubscribe at any time…
(Don't see the form above? Then click here to sign up…)
Finally, take a minute and check out Mark's new The Handsome Factor program by clicking here…