Get Roosh's New AND Old Book Combo for $19.97!
If you haven't gotten the Roosh Bang book yet, you're in luck!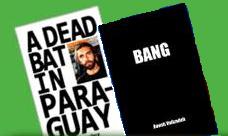 Roosh is selling his popular Bang Field Guide combined with his new book "A Dead Bat In Paraguay" for just $19.97!
Bang normally costs $29.97 by itself, so you get a free book and save $10…
If you already have Bang, no worries! You can still get his new book alone for just $10.97.
For those who don't know, Bang is Roosh's comprehensive guide on how to pickup women and get "more lays in 60 days"…
His new book "A Dead Bat In Paraguay" is his autobiographical journey in trying to find himself by quitting his 9-to-5 job and traveling through South America picking up women… think "The Game" but more real and without all the puppy dogs and ice cream fluff…
Click here for the full synopsis, video trailer and sample pages…
To order, click here. Once you're on that site, click the "Order Ebook PDF Copy Now" button and you'll get an option to order both books for $19.97…
I've read parts of Bang and thought it was pretty solid. I've just started reading "Dead Bat" and so far, so good. The reviews have been positive for both books. If you don't enjoy them, there's a 30 day money back guarantee.
Click here to get both books now at this discounted price…